100,000 gather in central Moscow to celebrate Crimea reunification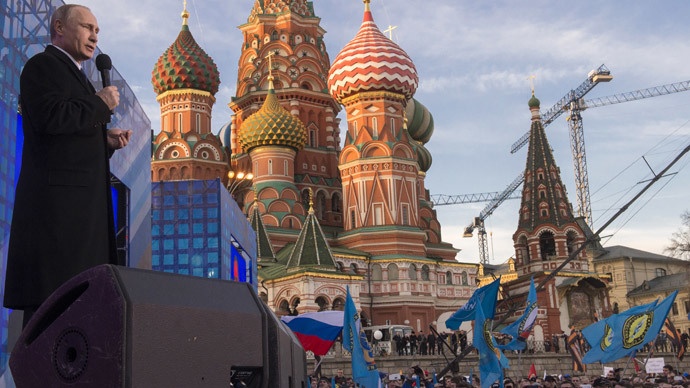 Some 100,000 people, according to police estimates, gathered near Red Square in Moscow on Wednesday to celebrate the anniversary of Crimea's reunification with Russia. President Putin joined the event and sang the Russian national anthem on stage.
READ MORE: Coming home: Crimea marks 1 year since voting to rejoin Russia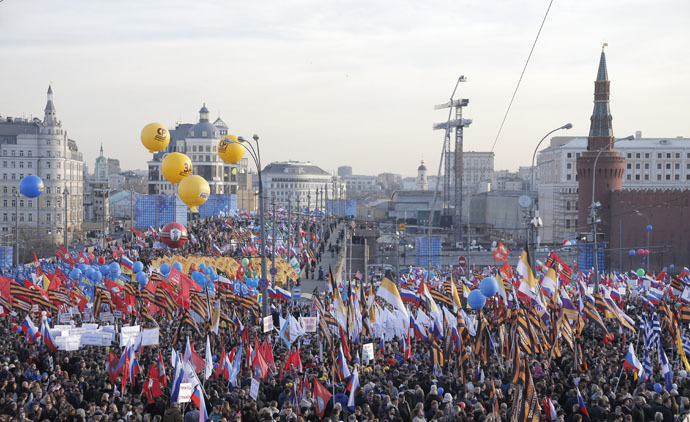 The gala show, titled "We are together", included a rally and a concert. It was organized by Moscow City Hall. Marking a year since Crimea joined Russia, the rally was attended by over 100,000 participants, RIA Novosti reported.
#севастополь #мысленнотам#Москва#Россия#Крым#Севастополь#Странаедина#Путин#Чалый#Константинов#Меняйло#Аксенов pic.twitter.com/wKjb8WV0Ev

— InstaKPbIM (@InstaKPbIM) March 18, 2015
People carrying various hand-made posters gathered at the city's famous landmark, Vasilievsky Spusk, near the Kremlin walls. A range of Russian singers performed on stage in front of the huge audience.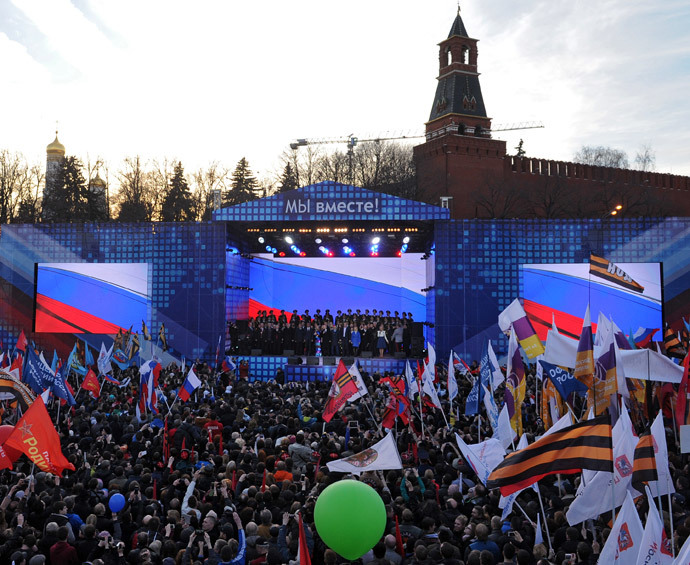 President Vladimir Putin attended the rally, and appeared on stage to personally congratulate everyone gathered to mark the occasion.
Крым,мы снова вместе!Васильевский спуск. pic.twitter.com/qflvm46Y5P

— Ветераны Афганистана (@RsvaNews) March 18, 2015
"A year ago, the Russian people demonstrated amazing equanimity and patriotism in supporting the people of Crimea and Sevastopol in returning to their native land. We, all together, then realized and felt with our hearts and minds how important the link of history and generations is," Putin said, adding that such historical and "spiritual" connections make people a united nation.

Citizens in Crimea and Sevastopol, a city with a special status on the peninsula, voted for independence from Ukraine at a March 16 referendum in 2014. With the region being home to an ethnic majority of Russians, 97 percent of the population (1.2 million people) refused to recognize Ukraine's new government, which came to power after the Maidan protests, and voted for reunification with Russia.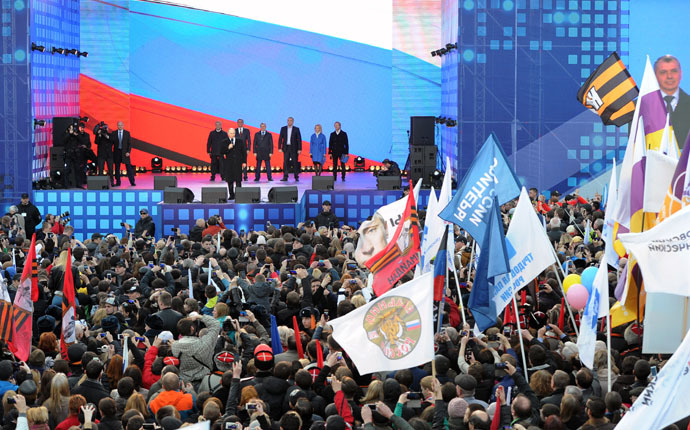 В центре Москвы проходит празднование первой годовщины присоединения Крыма http://t.co/uQxJE9PbMD #КрымНашpic.twitter.com/zi1t12j9Wi

— Anna G (@LadyGuri) March 18, 2015
You can share this story on social media: