​'Humiliating': French rabbi told to take off kippa before voting at polling station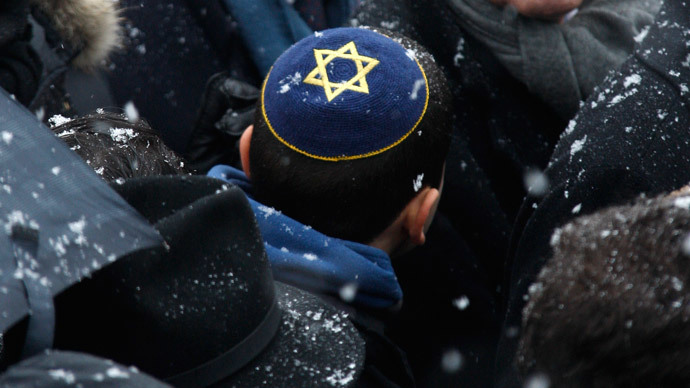 A rabbi has filed a complaint for "humiliating" discrimination at a polling station in the French city of Toulouse after a clerk told him to remove his kippa, or Jewish skullcap, to vote in local elections.
A polling clerk from the Left Front coalition urged Toulouse rabbi Harold Avraham Weill to remove his kippa, citing French laws. The incident happened last Sunday during the first round of nationwide polls held to elect local councils.
Strict French rules on secularism apply to "ostentatious" religious symbols, such as Jewish kippas and Muslim headscarves worn at schools and universities, but they exclude the times when they are used as polling stations.
Jeûne #interreligieux : "Il est de notre devoir d'unir nos forces" pr le rabbin Avraham Weill http://t.co/rF6B1S7vwbpic.twitter.com/H1WRTLjVOC

— La Vie (@La_Vie_hebdo) February 12, 2015
Weill, 32, described the "humiliating" situation, which he said happened for the first time since he reached voting age, as "the overzealous behavior of someone who does not know election rules," AFP reported. He said: "There was no insult, but an intention to intimidate me," adding that it took some time to file a complaint as he wouldn't like to "give ammunition to those who think Jews like to portray themselves as victims."
In a statement, the local Communist Party, a member of the Left Front coalition, said it "regretted" the incident and intended to "dispel the misunderstanding." The statement also expressed the party's "unwavering support for the fight against anti-Semitism and xenophobic ideas."
Sunday's incident came just three days after the southern French city held commemorations for the victims of Islamist gunman Mohamed Merah – three French soldiers and a Jewish family of four people who were killed in 2012. During the event, representatives of six different religions signed a "charter of fraternity."
Human rights watchdogs across France have been warning of the danger of increased anti-Semitic and Islamophobic attacks, fueled by January's terrorist shootings in Paris. The Observatory Against Islamophobia said in February that the first month of this year had seen more anti-Muslim attacks than in the whole of 2014.
READ MORE: Netanyahu urges European Jews to move to Israel after Denmark attack
On Tuesday, a pregnant Muslim woman had to be taken to a Toulouse hospital as a result of an attack by an unknown man, who apparently reacted to her wearing a veil.
In February, Israeli Prime Minister Benjamin Netanyahu urged European Jews to immigrate to Israel, warning: "Once again Jews are murdered on the soil of Europe just for being Jews. This wave of terror attacks is expected to continue, including these murderous anti-Semitic attacks." His call followed the shooting outside a Copenhagen synagogue that left a Jewish Danish man dead.