Saudi Arabia moves heavy arms to border with chaos-stricken Yemen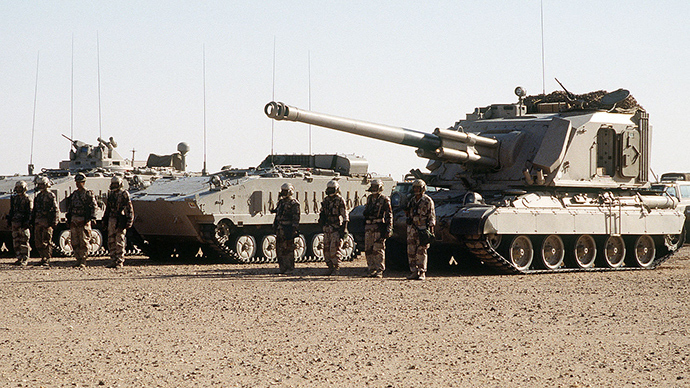 Saudi Arabia is deploying a significant task force to the border with neighboring Yemen, where Houthi Shiite rebels allegedly forced the president to leave the country. President Hadi has been asking the UN to approve the use of foreign forces in Yemen.
DEVELOPING UPDATE:Saudi Arabia starts bombing Yemen - envoy
The situation in Yemen remains murky, with Houthi militants claiming capture of the southern seaport of Aden, President Abd-Rabbu Mansour Hadi's stronghold. The fighters say the city of Aden is now under their control and they're arresting the president's supporters there.
The rebels claim Hadi has fled the country, and announced a 20 million riyal ($100,000) reward for Hadi's capture, Lebanese-based Al-Manar TV reported, citing the rebels' representatives. While two of the president's aides have said he remains in Aden and has no intention of leaving the country, later reports claim he has left Yemen.
Yemen's president has left the country on a boat from Aden, officials told AP. Hadi is now traveling by sea to the neighboring country of Djibouti, Yemen's former president Ali Abdullah Saleh's secretary told RIA Novosti.
Local residents informed Reuters that Houthi fighters have overrun Al-Anad airbase and entered Aden, arresting the defense minister.
Elements of the Yemeni army who have sided with the rebel fighters have seized control of the Aden international airport, according to Al Mayadeen TV. The airport representatives told AP it was closed with flights canceled for security reasons and the worsening situation in the city.
BREAKING: President Hadi left by water with Saudi diplomats. shown in the picture Saudi mission Aden waters. #Yemenpic.twitter.com/Py6YAOUi26

— Yemen Post Newspaper (@YemenPostNews) March 25, 2015
The objective of the Saudi Arabian troops remains uncertain and even the US, Riyadh's major ally, is not sure what the House of Saud has on its mind regarding the long-lasting political turmoil of its southern neighbor.
The opinions of US officials contacted by Reuters on the issue are divided. Two said that the concentration of artillery systems and armor on the Saudi border with Yemen have defensive purposes, while other government sources were not so sure.
A US source that described the concentration of Saudi troops as "significant" made a guess that Riyadh might be getting ready to strike the Houthis if they attempt to seize the residence of Yemen's legitimate president. It cannot be excluded that Saudi Arabia might use its Air Force to strike rebels near Aden.
#Saudi army is amassing on #Yemen border for a possible invasion after green light from all #Gulf states minus #Omanpic.twitter.com/1LR57vJMG8

— Ahmed Quraishi (@AQpk) March 25, 2015
Hadi has been seeking support from the United Nations Security Council for military action against Houthi militias by "willing countries," Reuters reports.
The president wants the UNSC to adopt a resolution authorizing "willing countries that wish to help Yemen to provide immediate support for the legitimate authority by all means and measures to protect Yemen and deter the Houthi aggression."
Hadi has also asked the League of Arab States to immediately interfere in the situation in Yemen, Al Arabiya TV reported, citing a statement by Yemen's foreign minister, Riad Yassin. A "joint Arab slant" is needed to coordinate and decide on an "immediate military intervention," Yassin said.
The Arab League's foreign ministers will meet Thursday to discuss possible military involvement, Reuters reported, referring to the League's deputy chairman.
Meanwhile, the militants in Yemen have called for all neighboring states to "keep the peace" and "side with the people of Yemen," an official representative of the Ansar Allah armed group said, as cited by Tass.
READ MORE: US evacuates 'special forces' in Yemen as rebels seize third largest city
Some Yemeni military officers don't like the idea of foreign intervention.
"We express our total and utter rejection of any external interference in Yemeni affairs under any pretext and in any form and from any side," Reuters cited statement of a group of officers calling themselves Higher Committee to Preserve the Armed Forces and Security.
"All members of the armed forces and security and all the sons of the proud people of Yemen with all its components will confront with all their strength and heroism any attempt to harm the pure soil of the homeland, its independence or its sovereignty or to threaten its unity and territorial integrity," the military group announced on a website.
In late February, Yemen's Shiite rebel leader Abdel-Malik al-Houthi accused Saudi Arabia of attempting to divide Yemen along sectarian lines.
"Our elder sister, the Saudi kingdom, doesn't respect the Yemenis and wants to impose here in Yemen the sequence of events and divisions that happened in Libya," al-Houthi said, as cited by the AP.
A brief war between Houthis and Riyadh resulted in deaths of about 200 Saudis four years ago.
Houthis taking over Yemen ✌️ pic.twitter.com/NGtByWDuMq

— Ali (@Thatone_JnoubY) March 24, 2015
"There were plans for an observer mission or a local ceasefire with the Houthi rebels, but due to the fact that Saudi Arabia borders Yemen and Yemen is now posing a security threat to Saudi Arabia, the US is more likely to advocate any sort of intervention in Yemen," Middle East researcher Danny Makki told RT.
As the US is fighting Al-Qaeda militants within Yemen, "now the problem is that the Al-Qaeda militants that Americans are fighting are actually fighting the Houthi rebels, who America is un-allied to," Makki added, saying that such a situation results in a "geopolitical war of mirrors."
READ MORE: 'No Arab, GCC country has time or capacity to save situation in Yemen'
Sunni Saudi Arabia believes that Shiite Houthi rebels are supported by Riyadh's arch-enemy Iran. The kingdom's richest oil deposits are in the Eastern Province bordering Yemen and inhabited by Shiites. Given that the power in Saudi Arabia's neighbor Iraq is also in the hands of Shiites, Sunni Riyadh could find itself between rock and a hard place and in a state of proxy war with Tehran.
The porous 1,800km border between Saudi Arabia and Yemen, used by local tribes for illegal trade and contraband, has always been a headache for Riyadh. In 2004, Saudi Arabia even initiated construction of the so-called 'Saudi–Yemen barrier' with control towers and electronic detection equipment. Although the multi-billion project was only partially implemented, talks about construction's renewal reappeared on many occasions and came up with a bang after Houthi rebels' success in seizing power in Yemen.
In August 2014, Houthi rebels swept down from their stronghold in the mountains, demanding economic and political reforms. In September they seized key state installations in the capital, Sanaa.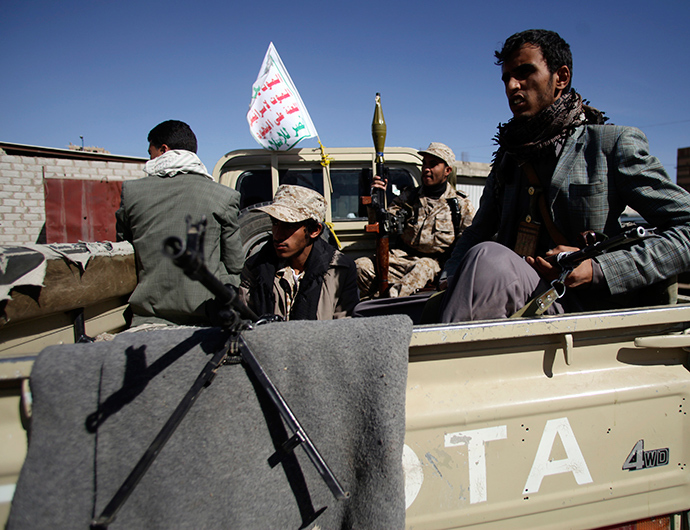 After Hadi left the capital, Houthis continued advancing to the south of the country, seizing cities one by one. All Western embassies were evacuated from Yemen.
READ MORE: Marines 'smashed' weapons before evacuating US embassy in Yemen
When last weekend Shiite rebels seized Yemen's third largest city Taiz, the US announced the evacuation of remaining special forces involved in a drone campaign against Al-Qaeda.
READ MORE: Dozens dead in Yemen mosques bombings, ISIS 'claims' responsibility (GRAHIC IMAGES)
Last Friday a suicide bomber attack on two mosques in Sanaa became one of the worst terror acts in Yemen's history. At least 126 people were killed and some 250 more were wounded in the bombings. Islamic State militants have claimed responsibility for the deadly suicide bomb attack, according to their statement cited by Reuters.
You can share this story on social media: