Great Wall of Japan? Hot debate over Tokyo's 400-km anti-tsunami barrier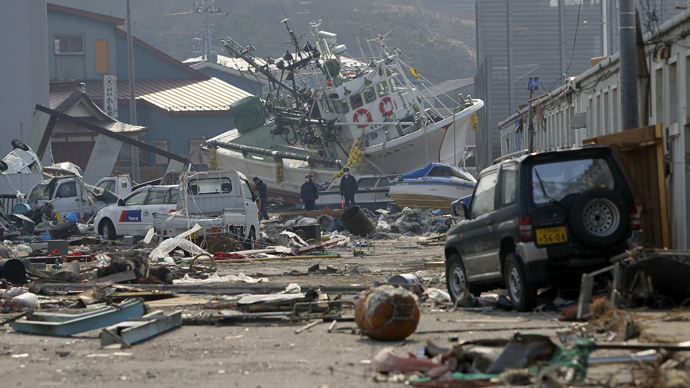 Japan plans to build a 400-kilometer chain of sea walls to fend off any future natural disasters. Some parts of the $6.8 billion project will reach a height of five stories, but critics say it could damage marine life and won't guarantee residents safety.
Some 440 sea walls will be built in the north east of the country. The project is aimed at stopping a repeat of the devastating 2011 tsunami, which crippled the country and led to the Fukushima nuclear disaster. Around 18,500 people died or went missing in the wake of the tsunami, with a number failing to heed warnings telling them to escape low-lying areas.
The government announced the plans, which later earned the nickname "The Great Wall of Japan", just a few months after the disaster hit. Works are already underway, to be completed in about two years.
The total cost is around 820 billion yen ($6.8 billion). But this is not final, since earlier reports from the ministries of agriculture and land said that 14,000 kilometers of Japan's 35,000-kilometer coastline require tsunami protection.
#Japan opts for massive, costly sea wall to fend off tsunamis http://t.co/PeHdVWbsEV via @physorg_com#tsunamipic.twitter.com/QSZwaplO23

— Blue Planet Society (@Seasaver) March 22, 2015
"Residential areas and evacuation routes must be protected by high walls," Mitsutaka Kodama, of Miyagi's harbor restoration department, told the Japan Daily Press in early March. "We can set back the wall, away from the water to create more shoreline, or make it easy to climb to see the scenery, or cover it with greenery."
Concrete vs Trees
Previously, sea walls have been viewed as a local issue in Japan, but the project is now stirring nationwide concern.
Opponents of the massive structure say it's a waste of money, most of which will be hived off from regional budgets. Traditional sceneries will be disrupted, while risk zone areas will not be totally disaster-proof.
"We love this scenery and we're worried about the environmental impact of sea wall construction, which would affect my livelihood," tsunami survivor and fisherman Makoto Hatakeyama, who lives in the small port city of Kesennuma in Miyagi prefecture, said.
"We've never had a sea wall before. We've always coexisted with the sea and we don't like being cut off from it," says Rikio Murakami, another Kesennuma, resident.
Sea walls are a controversial issue. Fudai, a village sheltering behind a giant concrete shield, escaped intact in 2011. But nearly 90 percent of existing seawalls along the northeast coast an't say the same - a $1.6-billion breakwater protecting the city of Kamaishi crumbled on impact, and some 1,000 people died there.
Photo shows a sea defence wall in Japan after the tsunami, what's the UK government option for our #storm#defence? pic.twitter.com/6YcsYiWcxY

— Mark Pearson (@clanpearson) February 14, 2014
"There's a bit of an over belief in technology as a solution, even though everything we have learned demonstrates that people's own insights and instincts are really what makes a difference, and technology in fact makes us a bit more vulnerable," says Margareta Wahlstrom, head of the UN's Office for Disaster Risk Reduction.
"The safest thing is for people to live on higher ground and for people's homes and their workplaces to be in separate locations. If we do that, we don't need to have a 'Great Wall,'" Tsuneaki Iguchi, the mayor of Iwanuma, another place affected by the 2011 natural disaster, told AP.
Iguchi has championed an alternative idea, which had the backing of former Prime Minister Morihiro Hosokawa: to plant mixed forests along the coasts on tall mounds of soil or rubble. The Iwanuma mayor believes the 'green wall' would last a lot longer than concrete blocks.
The First Lady of #Japan expressed her concern about high wall next to sea as it disturbs #ocean#environment#WCDRRpic.twitter.com/lz4HIQUDh9

— Kuldeep Singh (@kuldeep_lko) March 17, 2015
The 'Great Forrest Wall,' which has been planted in some areas, would not stop a tsunami, but it would help to slow down the speed of the waves and prevent some debris from being washed back out to sea.
Tomoaki Takahashi, who is trying to win support for the 'Great Forrest Wall' in local communities, admits a number of people are actually in favor of building concrete sea walls because this will create jobs.
Environmentalists say the planned 400-kilometer sea wall will be an eyesore. Kazutoshi Musashi, who lives in the northern fishing port of Osabe, now has a 12.5-meter high concrete barrier blocking his sea view.
"The reality is that it looks like the wall of a jail," said Musashi, 46, who lived on the coast before the tsunami struck Osabe. He has since moved inland.
You can share this story on social media: