US military convoy parades through Eastern Europe (VIDEOS)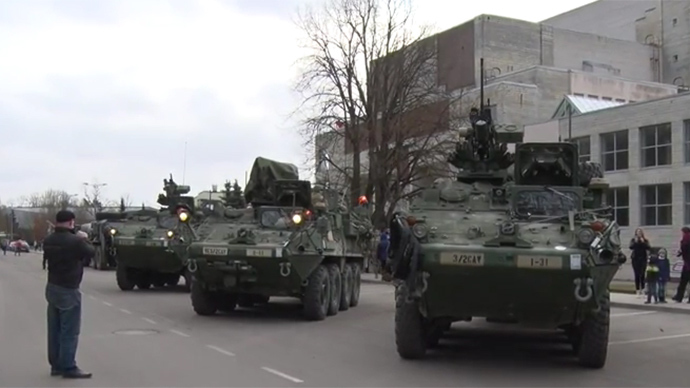 A convoy of US military vehicles, mostly IAV Stryker APCs, is touring through Estonia, Lithuania, Poland, Latvia, the Czech Republic to Germany in a symbolic show of force and solidarity with Eastern European allies "that live closest to the Bear."
Operation 'Dragoon Ride' kicked off Saturday in Poland, Lithuania and Estonia and will see the US Army's 2nd Cavalry Regiment covering some 1,100 miles to Vilseck, Germany by April 1. Soldiers from 3rd Squadron, 2nd Cavalry Regiment, will also participate in the military "exercise."
"The whole purpose … is to assure those allies that live closest to the Bear that we are here," Lt. Gen. Ben Hodges, commanding general of US Army Europe said earlier of the maneuvering.
READ MORE:Drills for me but not for thee: NATO launches war games near Russian border
US Stryker vehicles are typically transported by rail, but the decision to convoy them to Germany in the broad light of day for everyone to see is meant to demonstrate the presence of American and NATO force in the region.
"You heard our president say very clearly, we will defend our allies, Lithuania, Latvia, Estonia, and Poland," Hodges said. The move has been coordinated with the six European governments who are offering to escort over 120 pieces of US machinery traveling through their territories.
The US brandishing has been widely criticized, with some activists going so far as to accuse Washington of spreading Nazism and splitting European societies into separate camps. The government of the Czech Republic, according to local media, even instructed its own military to protect the US military convoy as it crosses the country over fears that numerous people protesting the move could stage "provocations."
Czech communists speaking out against the ride say it will only cause traffic jams and annoy locals. "We are facing questions about the extent to which our roads will be damaged," the country's Defense Minister Martin Stropnicky admitted on Czech television.
The 'Dragoon Ride' is intended to test the US easily maneuvering near Russia's borders, because as Hodges says President Putin "moves troops and stuff around Russia whenever he wants to."
"President Putin exercises freedom of movement all the time," Hodges said. "For the alliance, you've got to do that by moving from country to country, and what we discovered, even though these are all NATO countries and EU countries, each one still has different diplomatic clearance requirements and that sort of thing."
The pan-Eastern European journey comes as Operation Atlantic Resolve in the three Baltic States and Poland prepares to expand into two new countries – Romania and Bulgaria.
US troops have also started testing the rapid deployment of Patriot missile launchers at a test range in Sochaczew near Warsaw as part of their week-long exercise. The US contingent consists of some 100 US troops and 30 vehicles. Visiting troops US Ambassador Stephen Mull highlighted that Washington is always ready to "defend and stand by Poland's side in times of need," Stripes reports.
Russia in the meantime has ended its nationwide military drills that saw over 80,000 troops all over the country put on high alert to conduct exercises in the Baltic Sea, Black Sea, the Arctic and the Far East. The snap check of the military involved over 10,000 vehicles, 65 warships, 16 support vessels, 15 submarines, 200 warplanes and helicopters.
You can share this story on social media: