​Irish water struggle: Thousands to march against 'ideologically-driven' water charges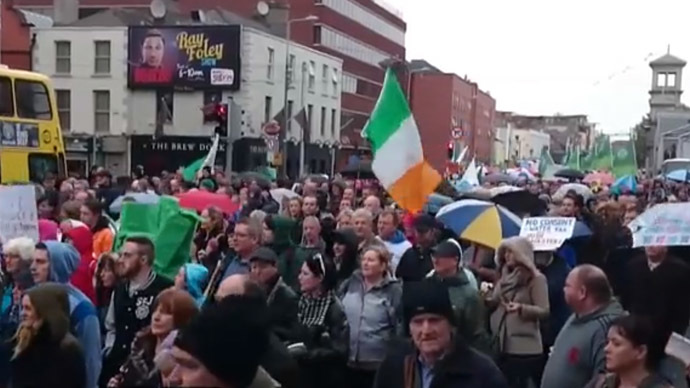 Thousands of anti-austerity campaigners are expected to pulse through the streets of Dublin on Saturday in protest against the Irish government's controversial water charges. They warn the charges are an "ideologically-driven tax" that must be abolished.
The water tax forms part of the Irish government's wider debt re-payment plan in the wake of a crippling bank bailout that cost Irish taxpayers over €64 billion.
Thousands are expected to gather in central Dublin to voice their opposition to what they say is double taxation imposed on a nation strangulated by debt. Three separate marches, highlighting the impact of austerity, are planned for Saturday afternoon.
Protesters will set out from Dublin's Connolly Station, Merrion Square and Heuston Station and convene in a mass gathering at 1pm on the capital's O'Connell Street.
READ MORE: Austerity tax: Tens of thousands protest against 'regressive' Irish govt water charges
The national demonstration has been organized by Right2Water Ireland, a nationwide collective of activists, community groups, political parties, and trade unionists.
The campaign argues the provision of adequately treated water and sanitation is a vital public service, and a fundamental human right recognized by the United Nations (UN). It is calling for the Irish government to legislate accordingly, and abolish its plans to enforce water charges on Irish citizens.
Speaking to RT, Unite trade union official and Right2Water Ireland co-coordinator Brendan Ogle said the Irish "will not put up with this ideologically driven extra tax."
He said the Irish government is unwilling to publicly acknowledge growing opposition to the water charges, but is "terrified" behind closed doors.
Ogle insisted "the majority of the population will refuse to pay this tax, which is now law."
"They thought they had gotten away with socializing €65bn of private debt, with a vicious five year austerity agenda.For five years those events caused nothing less than a national collective trauma. But now the Irish people have had enough and the government know it," he added.
READ MORE: Dublin gridlocked as 50,000 Irish protesters oppose 'Ministry of Thirst' water charges
As part of its water taxation policy, the Irish government set up semi-state firm Irish Water in July 2013. The company is responsible for developing Ireland's water infrastructure and billing citizens for water usage.
Against a backdrop of widespread poverty and a tidal wave of repossession orders surging through Irish courts, the firm has launched a €650,000 advertising campaign to inform Irish citizens on its services. The company has long been the subject of criticism, and has been marred by multiple controversies since its founding.
Ogle said the Irish government's planned water charges are an austerity tax introduced "by the IMF in a memorandum of understanding for the so called 'bail out' in 2009."
He described Irish Water as "the economics of Milton Friedman encapsulated in one arrogant, bullying inept company."He said the firm was unequivocally established "as a metered single utility to be privatized by a future government."
Approximately 1.5 million households are expected to receive their first bills under the water charges scheme in April 2015. The move has proved hugely unpopular, and has been described by campaigners as the most contentious austerity measure imposed on Irish citizens since Ireland's 2008 economic crash.
It has also spawned a vibrant mass movement in its wake. Anti-water charges activists say the movement is the largest "anti-plutocratic" wave of protest in modern Irish history.
Reflecting on rising dissent in Ireland, Ogle said: "Our politics is changing with the breakdown of the old political order. What will replace it, and how average or otherwise it will be remains to be seen."
"The protests in Ireland are peaceful and it is that type of protest and its broad appeal, which has made this campaign the greatest mass mobilization campaign on a single issue in our state's 92 year history."
READ MORE: Austerity Ireland: Hundreds to protest national broadcaster's 'biased reporting'
The Right2Water campaign has launched an official petition calling on the Irish government to scrap its proposed water charges, and respect its citizens' human right to access water.
The Irish government, however, says it will not alter or renege upon its water charges policy. It maintains the water charges will facilitate the creation of much needed funds for the development of the state's water infrastructure.
Ogle was critical of Ireland's mainstream media, warning it bolsters the interests of a neoliberal elite.
"Ireland's mainstream media cheerlead the light touch regulation that wrecked our economy," he said.
"Then they cheerlead the policy of austerity and debt socialization that we have suffered from since 2008.They understand one economic orthodoxy only – neoliberalism – and are not encouraged by their owners or editorial lines to explore other options with an open mind."