​Rally against closure of indigenous communities in Australia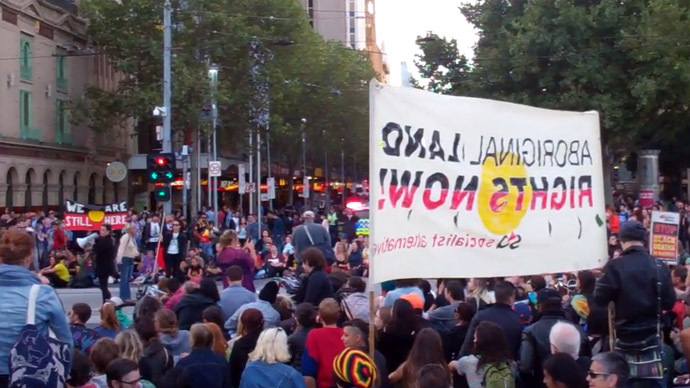 Hundreds have taken part in rallies in Western Australia, protesting the closure of remote indigenous communities in the state, according to local and social media.
More than a thousand protesters rallied in front of the Parliament House in the state capital, Perth, according to ABC News.
Protesters were chanting "save the communities, close the gap."
Looks like a great rally for remote communities in Perth happening now #closethegap#SOSBLAKAUSTRALIApic.twitter.com/bj9uotiFXi

— Rachel Siewert (@SenatorSiewert) March 19, 2015
Premier Colin Barnett and Aboriginal Affairs Minister Peter Collier went out to speak to protesters, but were booed.
Protestors turn their back on @ColinBarnett as he asks them to "walk in his shoes" #SOSBLAKAUSTRALIApic.twitter.com/maQ5hoSdwb

— Georgia (@oncloudstreet) March 19, 2015
Barnett announced in November 2014, that the state was forced to close 150 out of its 274 indigenous communities due to funding cuts.

Two days ago he set the date for consultations on the planned closures – June 30.
Tonight's #Melbourne rally against the forced closure of #Aboriginal communities in WA. #auspolpic.twitter.com/h5jTC1n9lD

— Tomtom (@forevertoremain) March 19, 2015
What fueled the public discontent over the issue was a comment from Prime Minister Tony Abbott, who said last week that the government could not "endlessly subsidize lifestyle choices if those lifestyle choices are not conducive to the kind of full participation in Australian society that everyone should have."
Taking a stand #SOSBLAKAUSTRALIApic.twitter.com/4OcWjvZSTN

— Sheree Lowe (@jarvislowe) March 19, 2015
The Perth rally is one of several taking place all over Western Australia.
Amnesty International's indigenous rights manager, Tammy Solenec, who was speaking at one of the rallies on Thursday, urged against forcing aboriginal people out of their lands.
"We all know living in remote communities is not a 'lifestyle choice'," she said, as cited by WA Today. "Aboriginal people have a custodianship of a deep spiritual connection to this land. And under Native Title laws imposed upon them, they must show a continuous connection to the land to prove their title. If they are forced off their homelands, it will be much harder to secure native title."
#Brisbane#SOSBLAKAUSTRALIA#NOConsent#lifestylechoice Rally is power! pic.twitter.com/QxS31jue4l

— SOS BLAK AUSTRALIA (@sosblakaust) March 19, 2015
Amnesty International has long campaigned for the rights of the aboriginal Australians to keep their lands. It detailed its stance in a 2011 report.
Ghillar Michael Anderson, an aboriginal leader and activist, believes indigenous communities are already being forced out of the lands to which they have their exclusive right.

"It's just totally inhumane what is going on in this country," Anderson said. "We got a word tonight that three other aboriginal communities in Western Australia had their water cut off. And so they are forcing them out by stealth. They are cutting off all of the essential services. This is tantamount to a campaign that you would wage in a war."
My first Australian protest.. Stop the forced closure of aboriginal communities. #SOSBLAKAUSTRALIApic.twitter.com/qX8BcbfxGp

— Noni May (@nnonimay) March 19, 2015
Protests would, according to Anderson, attract even larger crowds if the mainstream media paid more attention to the problems aboriginal people face.

"A lot of Australians are just starting to wake up to it, because we are starting to stand up and fight against this system," he said. "And it's pretty hard to mobilize people when you have Murdoch press absolutely controlling Australian media system and Fairfax, another family that controls the media in Australia. In terms of the mainstream media... the aboriginal people on the ground fighting they don't get any coverage at all."
Can you believe we are saying this in 2015 #sosblakaustralia#lifestylechoicepic.twitter.com/OfRJBs3nFw

— James Saunders (@JamesAGSaunders) March 19, 2015
It's not the first protest against the proposed closure of indigenous communities. Last Friday, more than a thousand protesters marched in the center of Melbourne, blocking traffic.
You can share this story on social media: