IQ au lait: Breastfed babies grow up more intelligent, earn more – study
Published time: 18 Mar, 2015 17:46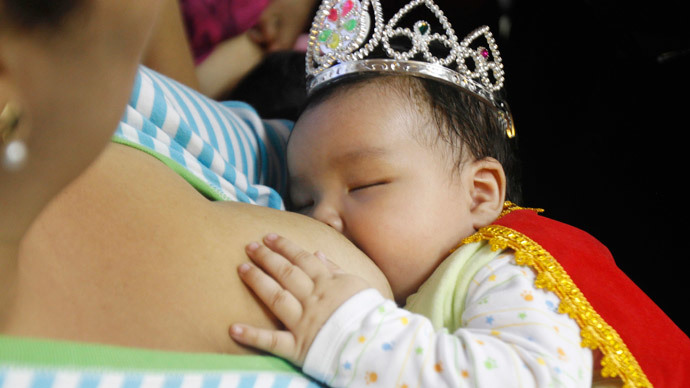 Breastfeeding affects intelligence, education and income of adults in the future, according to evidence from a long-term study in Brazil. Those who were breastfed longer grew up with higher IQs and better-paid jobs.
A prospective birth cohort study from Brazil first enrolled almost 6,000 newborns three decades ago; from 2012 to 2013 nearly 3,500 of the participants were available for further research with interviews and IQ tests to find out the "association between breastfeeding and intelligence, educational attainment, and income at 30 years of age."
The analysis, published in the Lancet Global Health magazine, showed that those who were breastfed for 12 months or more had higher IQ scores (with a difference of 3.76 points), more years of education, and higher monthly income than participants who were breastfed for less than a month.
According to Brazilian researchers, some evidence of similar positive effects of breastfeeding has been available before, but it has generally come from high-income countries. There was a question of whether the effects observed in other studies were a consequence of breastfeeding itself, or were associated with the status of the researched families.
The newly-published study was not limited to any particular group of people with similar social backgrounds and earnings, but rather evenly distributed across social classes in Brazil. The higher income of those breastfed babies 30 years later was not a result of their families' background, researchers claimed.
"The results of our mediation analysis suggested that IQ was responsible for 72 percent of the effect on income," the study says.
READ MORE: Facebook frees the nipple: Ban on breastfeeding photos lifted
Although researchers stated that the project was conducted with the aim of promoting breastfeeding by exposing its longer-term benefits, they acknowledged the possibility that mothers breastfeeding for longer could be helping their children's development in other ways, and the effects of this could not be completely ruled out.
"Some people say it is not the effect of breastfeeding but it is the mothers who breastfeed who are different in their motivation or their ability to stimulate the kids," Dr Bernardo Lessa Horta from the Federal University of Pelotas in Brazil told the Guardian.
With mother's milk rich in elements that are essential for babies' optimum growth and development, the World Health Organization guidelines recommend at least six months of exclusive breastfeeding, followed by partial breastfeeding until two years of age.