France passes 'deep sleep' law to help end of life suffering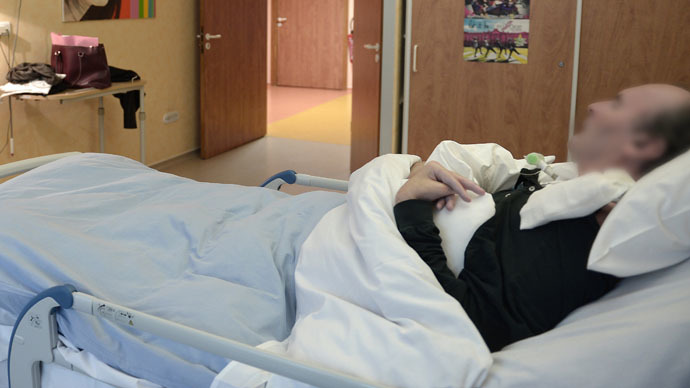 French lawmakers have given the green light to a law that will allow doctors the right to put terminally ill patients into a deep sleep until they die.
The vote passed by a huge majority with 436 in favor and 34 against, although the session was briefly interrupted by a group of protesters who threw bits of paper with slogans like "no to euthanasia" from the gallery.
A total of 83 lawmakers abstained. Of these, several from the left abstained because the law didn't go far enough. Around 20 MPs from the right wing UMP party also didn't take part because they thought the law went too far, which some said represented a drift towards euthanasia.
On Monday representatives of France's religious communities said they would try and appeal the bill.
"We are launching a joint appeal, anxious and pressing, [so] that this possible new law will not in any way violate this basic principle: all human life must be respected particularly at the moment when it is most fragile," they said in an open letter published in French daily Le Monde.
READ MORE: French legislators to debate 'deep sleep' end-of-life option
Pro euthanasia campaigners said the bill doesn't go far enough.
"Everyone says there is no suffering but nobody has ever been in that position (near death)," said Jean-Luc Romero, head of the Right to Die in Dignity association.
While euthanasia remains illegal in France, President Francoise Hollande promised in his 2012 presidential campaign to reexamine the law and now France has come up with a compromise of sorts.
France will now allow doctors to put patients to sleep if they are terminally ill and in great pain.
"Sleep before death to avoid suffering," MP Jean Leonetti said while summing up the law he had proposed.
Polls show that by far the vast majority of French people are in favor of it: 96 percent.
This drops only to 88 percent if doctors have to make a decision because a patient is unable to.
READ MORE: Assisted suicide campaigners tackle 'misconceptions' in new video
The law provides for this and people will be able to draft "living wills" whereby they can legally bind doctors to administer the sleep-inducing drugs if they do not want to be kept artificially alive. It also included provisions that will give greater autonomy to families and friends of the ill person to express a patient's wishes if they cannot speak.
A law passed in 2005 already allows doctors to withhold lifesaving treatment but now France is a step closer to allowing euthanasia.
Despite popular support, the Health Minister Marisol Touraine has been adamant that euthanasia will not be legalized. She had said that French society must not be rushed on the issue.
"I do not consider that this is an inevitable move towards euthanasia or assisted suicide," she said.
The bill must now be considered by the Senate before the summer.