Anti-terror censorship: France blocks 5 sites without court order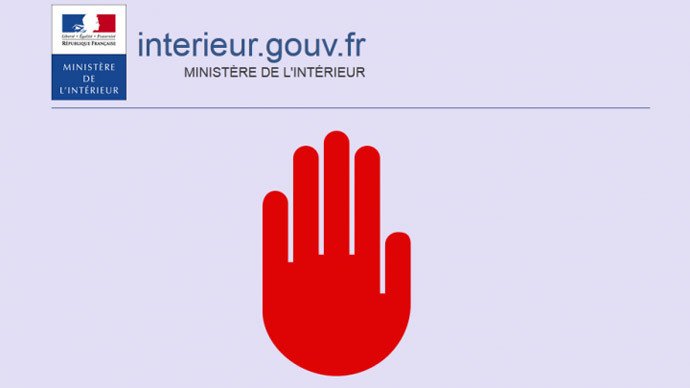 France has blocked five websites suspected of condoning terrorism and spreading hate speech, marking the first usage of new anti-terrorism powers approved by parliament last year that allow such bans without court orders.
"I do not want to see sites that could lead people to take up arms on the Internet," French Interior Minister Bernard Cazeneuve said at a public meeting Monday.
"I make a distinction between freedom of expression and the spread of messages that serve to glorify terrorism. These hate messages are a crime," he added. Internet service providers were given 24 hours to comply.
Among the sites that are being restricted is al-Hayat Media Center, accused of possible links with Islamic State militants, according to Cazeneuve. The ministry also says it plans to target "dozens" of other similar websites.
READ MORE: First in France: 6 nationals' passports seized after planning Syria trip
Internet service providers have been given 24 hours to take "all necessary measures to block the listing of these addresses" under the new rules introduced in November last year.
It is the first time the new powers have been put to use to block websites without going through a court with due diligence. Visitors to the sites are now redirected to a page from the French Interior Ministry, containing a warning graphic of a big red palm, reading "the contents...incites terrorism or justifies terror acts."
France is still on high alert under Operation Sentinel which mobilized over 10,000 troops on French soil to protect 682 sensitive sites across the country including religious sites, railway stations, airports, and tourist attractions in the wake of a rise in religious tensions following Charlie Hebdo attacks in January.
You can share this story on social media: