​Latvia reports 2 Russian 'black hole' subs & research ship on edge of territorial waters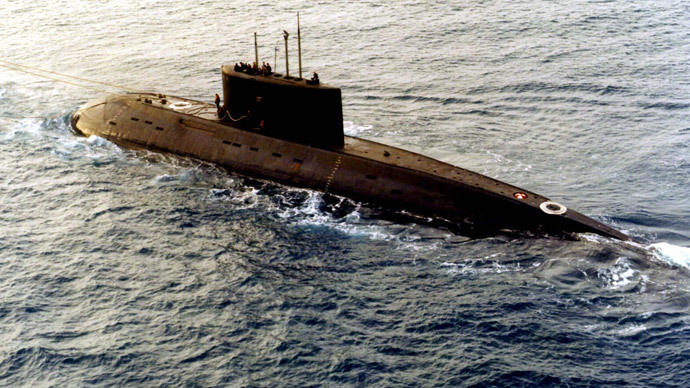 The Latvian armed forces claim they have detected two Russian Kilo-class submarines and a research vessel 27 and 30 nautical miles outside the country's territorial waters, three days after a sighting of a Russian destroyer was reported off its coast.
The Kilo-class vessels, to use their NATO classification, have been deployed by the Soviet, and then the Russian navy since the early 1980s. Nimble and quiet, they have traditionally been named "black holes" for their stealth capabilities.
While moving in Latvia's exclusive economic zone, but not its territorial waters, does not contravene international regulations, the authorities in the Baltic state have expressed alarm at increasingly frequent muscle-flexing displays on its borders.
Armed Forces on 16 MAR in LV EEZ 27 nmi from territ. waters spotted RU Navy's Kilo-class submarine.

— NBS (@Latvijas_armija) March 16, 2015
Armed Forces on 16 MAR in LV EEZ 30 nmi from territ. waters spotted RU Navy's 2nd Kilo-class submarine, and hidrographic ship GS-403.

— NBS (@Latvijas_armija) March 16, 2015
Last year, Riga alleged that Russian vessels were spotted 50 times off the coast of Latvia, and planes flew around its airspace 200 times. At no point did they violate Latvian borders, but the three Baltic states scrambled their jets 112 times last year, to escort Russian planes out of their territory.
Russian aircraft have been seen as far apart as the Cornwall coast in England and near Canada's segment of the Arctic circle. On Monday, Turkish F-16s intercepted two Russian IL-20 jets that were "flying parallel to its border line".
READ MORE: Swedish military wants $700mn to hunt subs after autumn 'chase'
Moscow has not officially confirmed nor denied its movements far from its own borders, but insists that the maneuvers are necessary to drill its staff, and test the technological capability of its equipment.
Russia's navy thanked Latvia for "giving it extra publicity" following a report of a sighting late last year, while defense minister Sergey Shoigu promised earlier this month to expand Russian aerial operations "in regions all around the world."
READ MORE: Massive surprise drills launched in Arctic on Putin's orders (VIDEO)
The latest sighting comes two days after NATO tanks arrived in nearby Estonia for planned joint drills later this spring. On Monday, Vladimir Putin also ordered a "full mobilization" of its large Northern Fleet, which will perform five days of exercises in the Barents Sea, near the Arctic Circle.
You can share this story on social media: