Self-defense stick: Indian doctor's device wards off would-be rapists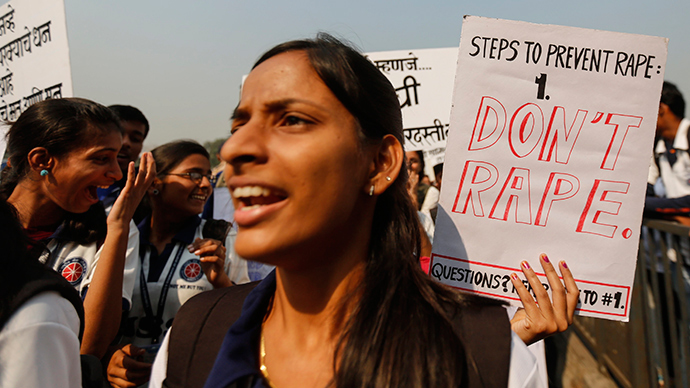 As rape cases make headlines in India, a local doctor believes he has invented the ultimate deterrent for would be attackers. It's a baton which includes a stun-gun, a GPS tracking device and a knife – all rolled into one.
Dr. Pavan Kohli, who hails from the city of Pune, around 150km southeast of Mumbai, named the device 'Samiidha Bhavani' after the Hindu goddess of valor. He launched the non-lethal baton, which he claims is the "first fully-legal and complete self-defense device for women," on March 8 to coincide with International Women's Day.
It was also released just a few days after a chilling documentary, 'India's Daughter', was broadcast in the UK. The film was based on the December 2012 gang rape of a 23-year-old New Delhi physiotherapy student, who later died from her injuries.
The Latest Solution for Women's Safety in India: Samidha Bhavani - The Selfie-Defense Stick http://t.co/SSO4ZxMpGKpic.twitter.com/CO2L0oKqvL

— divakar s natarajan (@divakarssathya) March 11, 2015
The young woman's father spoke at the launch of the baton, saying he was sad that such a device was needed in India in the 21st century to protect women, however a rape occurs there on average every 22 seconds.
"Being called to unveil this protection device for women is a sad reflection of what our society has become. It's unsettling to admit that women now need safety devices [weapons] to venture out. I believe that young people can be agents of change. If they decide, we will soon have a safer and healthier society for women. Women too need to be alert and fearless about staying protected," he said, as reported by the Hindu newspaper.
On the launch of self defence technical equipped instrument.. Bhavani. with #Nirbhaya parents on dias & Dr Kohli pic.twitter.com/ADvDCTjAqX

— Dr Jaideep Arya (@swabhimani1) March 8, 2015
Kohli told the Deccan Herald newspaper that the device was "a gift from India to women across the globe for their empowerment, and to live with dignity." He also stated that specialists from India, Japan, the United Kingdom and Germany had helped with the project.
The baton weighs around 1.5kg (3.3lb) and is small enough to fit in a woman's handbag. Once fully extended, the baton is around 70cm (2.3 feet) in length, while it also includes a number of deterrents, such as a non-lethal stun-gun, pepper spray, a panic button - which is connected to a GPS tracking device - and a Swiss Army Knife blade.
Kohli says the cost of the prototype device is around 5,000 rupees (US$80), though he hopes the price will come down and is currently looking to find a manufacturer, who will sell his product.
Samiidha Bhavani is a sound concept. Will it fabricate well ? #MakeInIndia#VAWpic.twitter.com/hRS0w5D2cG

— divakar s natarajan (@divakarssathya) March 11, 2015
"The device will be available within the next 30 days and talks are on with the government and private agencies for its distribution. Baba Ramdev's Patanjali Yogpeeth has already agreed to distribute the device," Kohli added, according to the Hindu. Baba Ramdev is a multimillionaire Indian entrepreneur who earned his fortune running a yoga and health production empire. He also owns a chain of retail stores called Patanjali Yogpeeth.
READ MORE: Indian man facing death penalty for gang rape says victim 'should be silent and allow the rape'
In June, a group of Indian college girls unveiled anti-rape jeans, footwear and underwear to protect women. Two computer science students at a private engineering college in the city of Varanasi, Rijul Pandey and Shalini Yadav, showcased sandals that deliver electric shocks and jeans that have an inbuilt SOS button that send out a signal to all the victim's phone contacts.
"We conceived of this idea six months ago. While there are pepper sprays and other such things on the market, we thought of developing safety devices that don't need to be carried separately. The moment we hit someone with our sandal, it would send messages to friends and family members. It will also give a shock to the criminals and immobilize them for a few seconds. It can be used by any girl," the creators told the Guardian.
Both devices – the sandals and the jeans – are linked to the GPS network, as is the new "wonder" bra called SHE (Society Harnessing Equipment).
This crime-busting garment can also send out the wearer's GPS data and transmit powerful shock waves causing burns. The bra is calibrated in a special way to avoid its accidental activation.
You can share this story on social media: