Evacuations as 6.6 earthquake shakes Colombia capital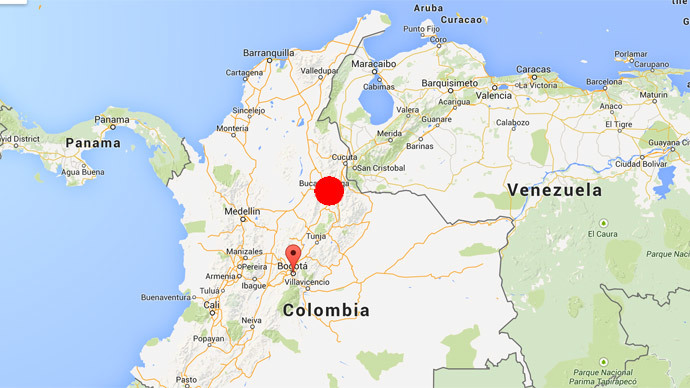 A magnitude 6.6 earthquake has hit the Colombian capital of Bogota, prompting mass evacuations from the city's buildings. Strong and prolonged tremors sparked panic and a social media storm.
The Colombian Geological Survey reported that the tremors originated from the Santander Department area and were 158 kilometers deep. The earthquake was an estimated magnitude of 6.6.
BOGOTA, Colombia - A Widely Felt Earthquake Has Shaken Colombia's Capital, Swaying Buildings. No Immediate Reports of Damages -AP

— Breaking News (@Breaking911) March 10, 2015
"@monterocnn: Evacúan varios edificios del centro de #Bogotá tras el fuerte sismo http://t.co/tiwRihrVIupic.twitter.com/cRT7FqJ7m5"

— AdrianaCarolina! (@Cinnamon_Skin22) March 10, 2015
According to the US Geological Survey (USGS), the earthquake was centered about nine miles (14 kilometers) north of Aratoca, which is about 175 miles (280 kilometers) north of Bogota. The epicenter was reportedly 91 miles (147 kilometers) deep. The USGS revised the earthquake's magnitude to 6.2.

No damage or casualties were immediately reported.
READ MORE:6.2 magnitude earthquake strikes off southern Japan - USGS
6,6 #earthquake in #Bogota just scared the sh%&$# out of me

— Catalina Merchan (@catalinamerchan) March 10, 2015
Just had a small quake "temblor" in bogota #colombia. Alarm rung on building we left office pic.twitter.com/tN12nhWvnt

— manuel rueda (@ruedareport) March 10, 2015
Residents reported on Twitter that tremors were felt in several Colombian cities, and posted photos of people rushing into the streets and waiting outside houses, cafes, and shopping centers.
There were reports that cellphone networks were completely jammed in the capital minutes after the earthquake struck. Local media said the quake was felt in the second biggest city of Medellin, as well as in several Venezuelan cities near the border.

"We know of no serious impact up to now," Oscar Ivan Marquez of the presidency's Risk Management office said, as quoted by Reuters.
Que susto el temblor de hoy en Bogotá... Donde fue el epicentro??? Evacuación en las oficinas.... Rapidisilo pic.twitter.com/weVNZroQgH

— Edith Riaño (@RianoEdith) March 10, 2015
Photos posted on social media show stores with goods lying on the floor and wine bottles shattered, wrecked communication lines underground, and damage caused to historical buildings in Bogota. Twitter user @whatsbenupto also reported that a student riot broke out in the city following the quake.
"@alertuxbog: #SismoBOG Se reportan daños en parqueadero en Bogotá. pic.twitter.com/FMPBBkR9Kc" Con las patas parteII @Grossoberyonase

— Lettuce (@LasdeIntuicion) March 10, 2015
#Bogotapic.twitter.com/FxeUIJS2NZ

— Bogotá News (@surgaitana) March 10, 2015
People rushing out of the building after the 6.6 point earthquake we just felt in Bogota. Yep off the bucket list. #earthquake #notfunny #feltit #yepinamdizzy #thewholebuikdingshook #nothankyou #bogota #colombia #countryclub #iamascarycat #golf

Фото опубликовано Sam Azar (@samazar_livnlux_foxtv) Мар 10 2015 в 2:18 PDT
Although no significant destruction was caused by the Tuesday quake, tremors of similar strength could be deadly if they are shallow and close enough to populated areas. In January 1999, a 6.2 magnitude earthquake centered 40 kilometers away from the Colombian city of Ibagué shattered homes and killed at least about 1,200 people, heavily affecting the regional capitals of Armenia and Pereira. Some 4,000 people were said to be missing in the aftermath of the quake, which caused a widespread communication breakdown, riots, and looting. A dusk-to-dawn curfew was imposed by local authorities.