​Saudi Arabia becomes world's top arms importer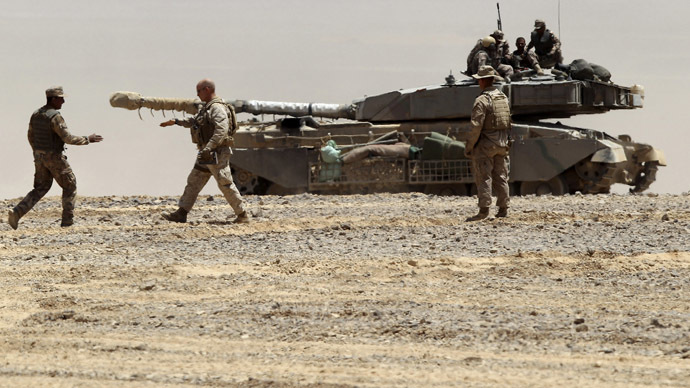 Saudi Arabia has become the world's biggest importer of weapons and defensive systems, overtaking the previous record holder, India, according to a new report which examined the arms trade across 65 countries last year.
Data revealed by the IHS Jane 360 in its Global Defence Trade Report, shows that Saudi Arabia spent over $6.4 billion on defense purchases in 2014, dislodging India from top spot. India's spending stood at $5.57 billion, placing it second.
The Kingdom boosted its arms imports by 54 percent over the past year. Together with its Persian Gulf neighbor, United Arab Emirates, both countries imported $8.6 billion of weapons – more than the whole of western Europe combined.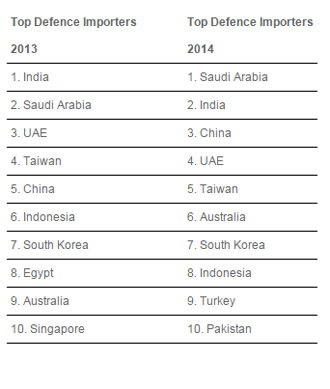 China has now become the third largest importer, up from fifth place earlier. "China continues to require military aerospace assistance from Russia and its total defense procurement budget will continue to rise very quickly," said Paul Burton, director of defense industry and budgets at IHS.
The "unprecedented" trend, the study predicts, will continue and in 2015 one out of every seven dollars spent globally on arms imports will be spent by Saudi Arabia.
"Growth in Saudi Arabia has been dramatic and, based on previous orders, these numbers are not going to slow down," IHS expert Ben Moores said, predicting a 52 percent import increase to $9.8 billion in 2015.
The biggest "beneficiary of the strong Middle Eastern market" is the United States, with $8.4 billion worth of Middle Eastern exports in 2014, compared to $6 billion in 2013, said the report. Other countries that top the list of arms suppliers to the Middle East include the United Kingdom with $1.9 billion, Russia with $1.5 billion, France with $1.3 billion and Germany with $1 billion.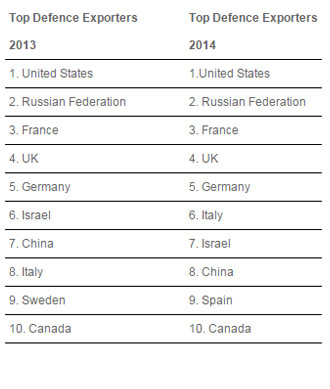 "You're seeing political fractures across the region, and at the same time you've got oil, which allows countries to arm themselves, protect themselves and impose their will as to how they think the region should develop," said Moores, the report's author.
IHS says that currently the global defense trade stands at $64.4 billion, a figure which has been driven by "unparalleled demand from the emerging economies for military aircraft and an escalation of regional tensions in the Middle East and Asia Pacific," Moores said.
Unsurprisingly, the US still tops the list of global arms exports with $23.7 billion worth of equipment and 19 percent growth, supplying one-third of all exports. It is followed by Russia with $10 billion and 9 percent increase. The report however predicts that because of Western sanctions, Russia's strong performance could see a slowdown in 2015.
"A drop-off in [Russia's] exports is forecast for 2015 as major programs draw to a close, a trend that could be accelerated by sanctions," it said. "Furthermore, falls in the oil price are set to have a devastating impact on some lead Russian clients who are vulnerable to low oil prices, such as Venezuela and Iran."
Among other top exporters is France – the third biggest one with $4.9 billion, followed by Britain with $4.1 billion and Germany with $3.5 billion.
You can share this story on social media: