​Sphinx, cover your eyes! Porn filmed at Egypt pyramid triggers shock & investigation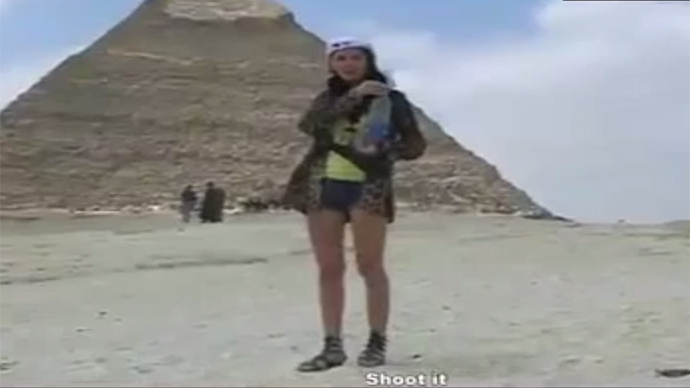 Egypt's authorities are investigating a porn video shot at the pyramids in Giza in front of tourists. The woman who plays the leading role in the film, is reportedly a porn actress and it's not the first time she has made a film at a 'historic site'.
"A set of sexually explicit scenes was illegally filmed inside the Giza Necropolis by a foreign tourist while visiting the site," Egypt's Antiquities Minister Mamdouh al-Damati said in a statement, as cited by Egyptian press.
The X-rated video sparked the investigation, stated the minister, adding that the country's authorities will now install surveillance cameras and equipment at the site to ensure such incidents don't happen in the future.
The scandalous clip was uploaded to the internet some months ago and is shot in Russian with English subtitles. It is not clear when the film, which contains pornographic scenes at Senn al-Agouz area inside the pyramid and near the Sphinx, was actually shot.
READ MORE: Dream job: Intern quits Wall Street to launch porn career
The video features an actress who goes under the pseudonym Aurita. She managed to flash her breasts on several occasions, even amongst a crowd of people visiting the country's historic monuments.
The video reveals the name of the Egyptian tour company and the identity of a tour guide accompanying the adventurous couple, according to Osama Karar, the coordinator of the Popular Front to Defend Antiquities in Egypt.
"The film was shot in broad daylight and with the knowledge of the officials in charge of the area," he said. "Where was security during this incident? There is supposed to be an engineering unit inside the pyramids, responsible for watching over the site. If a violation occurs, it should be spotted immediately."
Egyptologist Bassam al-Shamaa told News Time Africa that surveillance camera at historic places are not enough and "a full security cordon must be installed to prevent such incidents – which demean Egyptian civilization – from reoccurring."
A little is known about the identity of the woman and her male companion. Her nickname suggests she might be a model and porn actress Sasha Oranskaya from Sevastopol, who was convicted for five years suspended together with her partner back in 2012 for shooting an adult video in Chersonesus, an ancient city in Crimea which is listed as a World Heritage Site.
The couple then boasted on the internet that they used income from the film in Chersonesus to go an Egyptian tour, reported the Ukrainian segodnya.ua news website.
You can share this story on social media: