​We saved Jews 3 times, Netanyahu should revise history lessons – Iranian FM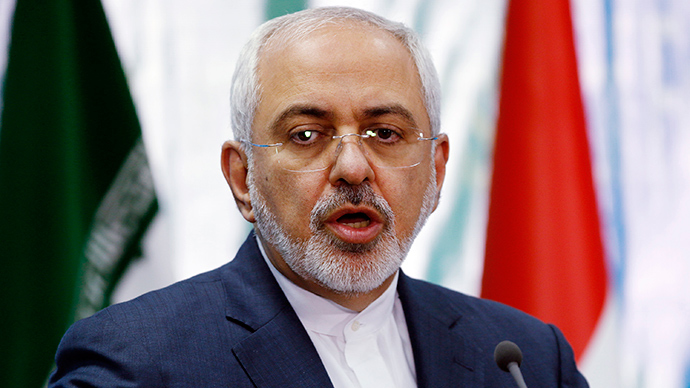 Iran has no intention of destroying Israel and has actually saved the Jews three times in history, but the current Israeli regime is a threat to Tehran, Iranian Foreign Minister Mohammad Javad Zarif has said in an interview with American media.
Speaking with NBC, Zarif slamed the Israeli prime minister, Benjamin Netanyahu, after he once again said in his Monday's speech before the US Congress that Iran openly threatened to wipe Israel off the map.
The Iranian FM urged Netanyahu to refresh his knowledge of history as his comments have not only "distort[ed] realities of today," but also go against the Bible and Jewish sacred texts.
"He even distorts his own scripture. If you read the book of Esther, you will see that it was the Iranian king who saved the Jews…" Zarif said.
The Iranian Minister called Netanyahu's accusations "truly regrettable" stressing that they refer to "an entire nation which has saved Jews three times."
"It is truly, truly regrettable that bigotry gets to the point of making allegations against an entire nation which has saved Jews three times in its history: Once during that time of a prime minister who was trying to kill the Jews, and the king saved the Jews; again during the time of Cyrus the Great, where he saved the Jews from Babylon, and during the Second World War, where Iran saved the Jews," he said.
"We're not about the annihilation of Jews," Zarif stressed, reminding the channel that 20,000 Jews reside in Iran "in peace" and even have their own representative in parliament.
"We have a history of tolerance and cooperation and living together in coexistence with our own Jewish people, and with Jews everywhere in the world. If people want to espouse fear mongering to fan such hysteria in the world, that's to their detriment," Zafir said.
More #pictures from @JohnKerry & @JZarif session in #Montreux. pic.twitter.com/THlirmSAyA

— Abas Aslani (@abasinfo) March 4, 2015
On the contrary, he stressed, the current Israeli regime "is a threat" to Iran as it's a regime "that engages in the killing of innocent children, a regime that engages in acts of aggression."
"Israel threatens to use force against Iran almost on a daily basis… Of course, if they did use force against Iran, we would defend ourselves, as we have done with great sacrifice in the past. But we are not invading, we are not threatening anybody. We have not threatened anybody for 250 years," the Iranian FM said.
While Netanyahu only has "a record full of infanticide, full of killing of innocent people, full of aggression against his neighbor, full of occupation," he added.
READ MORE: Iran nuclear deal possible, bond with Israel 'unbreakable' - Obama
Tehran and the P5+1 powers (the US, Russia, China, Britain and France, plus Germany) are currently in the decisive stage of talks, hoping to reach compromise over Iran's controversial nuclear program by mid-summer.
Zarif has once again turned down accusations by the West that the Iranian authorities are trying to develop nuclear-weapons capabilities, but Tehran insists that its program is for peaceful purposes.
"We never had the bomb. We will never have a bomb. We're not looking to have a bomb. We do not believe a bomb is in our interest. Whereas [Netanyahu] does have a bomb. He has 200 nuclear weapons," he said.
Zarif then went on to say that Israeli Prime Minister "has stood against a Middle East free from weapons of mass destruction" and he still accuses Iran of preparing one.
"He's in no place to do that. He doesn't have the authority, the moral authority, to do that," Zarif said.
According to the FM, Iran and the six world powers are "very close" to reaching a deal, but "there are details that need to be worked out."
READ MORE: Netanyahu offered no 'viable alternative' to Iran nuclear deal - Obama

On Tuesday the Israeli Prime Minister once again voiced his fierce opposition to Iran's nuclear program in front of a joint session of the US Congress, calling Tehran "the foremost sponsor of terrorism" that threatens not only the Israel and the Middle East, but the world, including the America.
Netanyahu urged for Iran to cease a "march of conquest, subjugation and terror."
Yet, on Monday, US President Barack Obama defended nuclear negotiations with Iran and maintained that a favorable settlement was still possible.
While Iran is still "more likely than not" to reject a deal, Obama stressed to Reuters that the odds of success are better today than three or five months ago.
The so-called P5+1 group of Britain, China, France, Russia, the United States and Germany is amid negotiation hoping to strike a framework deal with Iran before a late March deadline.
You can share this story on social media: