​'Big jar of condoms': Aussie radio chief deters staff from taking maternity leave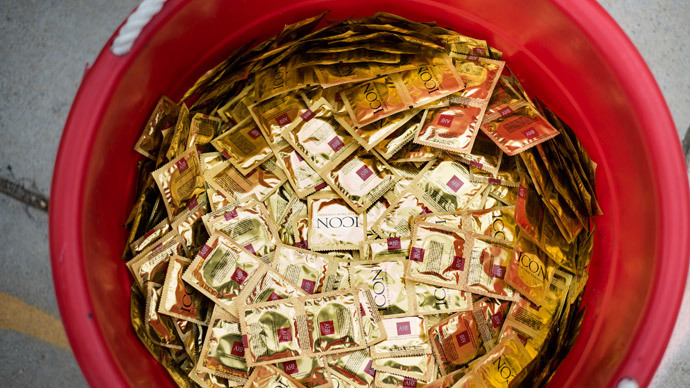 The regional head of an Australian radio network has come with a peculiar way of discouraging her staff from having babies and taking maternity leave – she keeps a big jar of condoms in the office.
"We do have a big jar of condoms at work," said Linda Wayman, a senior executive for Southern Cross Austereo in Perth, Western Australia, said at the conference, according to event organizers Mumbrella, an Australian media and marketing website.
Wayman, who is also the boss of two stations Mix 94.9 and Hit 929, added that a third of her 100 staff are absent on maternity leave or covering for those who are.
"I'm not lying, I'm not exaggerating… I do encourage people regularly to have sex with condoms. That is a big area of focus for me, encouraging people to have sex with condoms."
In her bid to discourage staff members from having babies, Wayman went even further – she introduced a special Angelina Jolie award at last year's staff Christmas party in a nod to the famously adoptive-mother actress.
The 'trophy' is given to those employees who profited most by attaining more senior roles which became available by women on maternity leave.
"Our acting brand director for Hit 929 at our Christmas party last year received the Angelina Jolie Award for the person who has benefited most from other people's pregnancies," she said.
"If women weren't pregnant then she would not have got this turbo-charged career opportunity."
READ MORE: LA porn condom law upheld, similar to G-string mandates for strippers
Wayman said she tried to support her employees who recently became mothers. However, she is opposed to a law which allows them to come back to work in part-time roles.
"I don't agree with the union push at the moment that women coming back to work automatically should be allowed to come back part time. I'd love to, but I'd be lying if I said that was wonderful."
Chief Executive for Southern Cross Austereo Rhys Holleran said Wayman's comments were "clearly... made tongue in cheek."
"She has an exemplary record as one of Perth's most compassionate advocates on all issues surrounding equality of women in the workforce," he told the Sydney Morning Herald.
Southern Cross Austereo was behind the prank call to the Duchess of Cambridge when she was pregnant and in hospital suffering from morning sickness. Mel Greig and co-host Michael Christian had posed as Queen Elizabeth II and Prince Charles on the phone and managed to obtain details of Kate's condition.
Three days later the nurse who took the call, Jacintha Saldanha, was found dead. The suicide led to public outrage against those responsible for the prank. Despite numerous calls, no charges were ever laid, although that particular radio station, 2DAY FM, looks likely to lose its broadcast license – at least temporarily – over the issue.
You can share this story on social media: