​Russian bombers disrupted commercial airline flights – Irish authorities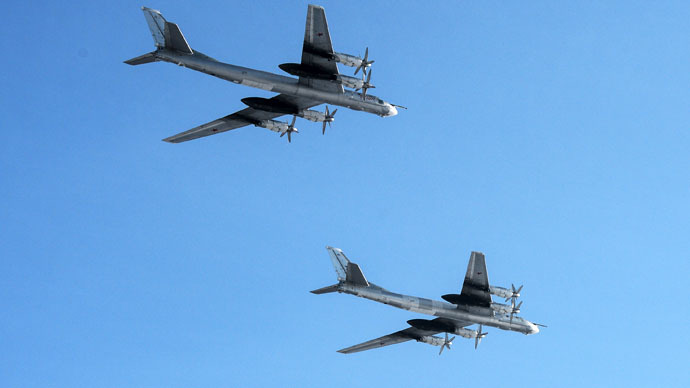 Commercial airliners carrying hundreds of people were disrupted when two Russian 'Bear' bombers flew through Irish-controlled international airspace last month, the Irish Aviation Authority (IAA) has said.
One airline was delayed from taking off and another aircraft was diverted in mid-air to avoid potential collisions with the Tu-95 bombers.
The Russian bombers flew 45 kilometers off the coast of Ireland in international airspace under Irish air traffic control.
Russian Riverdance: Flying 'bears' have the Irish hopping http://t.co/XqyesDIfOVpic.twitter.com/7pmrXNayIx

— RT (@RT_com) March 4, 2015
The incident occurred on February 18, the same day British RAF Typhoon fighters were scrambled to intercept Russian bombers flying close to Cornwall.
Ireland's Defence Minister Simon Coveney said the government was "clearly not happy" about the episode, the Irish Examiner reported.
READ MORE: RAF scrambles Typhoons to intercept giant 'Russian Bear' bombers off Cornwall
However, he added: "I'd be surprised if it was a Russian tactic to upset Ireland, and the IAA managed the incident safely and effectively."
It is not known why it took two weeks for the IAA to reveal the disruption caused by Russian Tu-95 bombers to civilian aircraft.
According to Interfax, Irish aviation authorities have admitted there was no threat to civil aviation flights in Irish-controlled airspace.
Russia has said on several occasions that its military aviation flights in neutral airspace do not violate any international norms regulating this sphere, the news wire reported.
This latest revelation follows an announcement by the British Ministry of Defence (MoD) confirming RAF Typhoon fighter jets were scrambled in response to the same Russian bombers on February 18.
READ MORE: Video from 'Russian Bear' bomber captures NATO escorts over English Channel
RAF jets escorted the Russian aircraft, which were traveling in international airspace, until they left the UK's "area of interest."
A spokesman from the MoD said: "RAF Quick Reaction Alert Typhoon fighter aircraft were launched yesterday after Russian aircraft were identified flying close to UK airspace.
"The Russian planes were escorted by the RAF until they were out of the UK area of interest. At no time did the Russian military aircraft cross into UK sovereign airspace."
February's interception follows a similar event in January when two Russian 'Bear' bombers flying over the English Channel were intercepted by RAF Typhoons.
The UK government summoned the Russian ambassador to complain about the January flight.
Britain's Foreign Office claimed it posed a danger to passenger aircraft, but no details were given.
You can share this story on social media: