'Health hazard': Too much human waste on world's highest mountain Everest
Published time: 3 Mar, 2015 16:22
Edited time: 3 Mar, 2015 17:06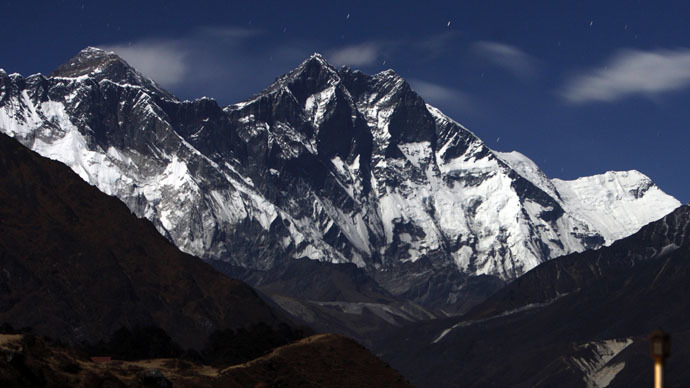 Human waste on Everest is becoming an issue, with pollution and disease hazards putting the world's highest mountain at risk, according to Nepalese authorities.
Each climbing season, over 700 climbers and guides spend almost two months on the steep slopes, leaving a lot of faeces and urine behind, the chief of Nepal's mountaineering association Ang Tshering said.
The climbers should be told to dispose of the waste properly to keep the peak clean, Tshering added.
A season lasts from March to May, and hosts hundreds of mountaineers, who first spend weeks in four camps between the base camp at 5,300 meters and the 8,850-meter peak. The camps are equipped with essential tools and supplies, but there are no toilets.
Some climbers cope with the issue by taking disposable travel toilet bags, but the majority "usually dig holes in the snow for their toilet use and leave the human waste there," Ang Tshering told AP.
The waste ends up "piling" around the camps for years, he added.
READ MORE: Sea shame: 155mn tons of plastic trash in world oceans by 2025, study finds
Dawa Steven Sherpa, who has been leading Everest expeditions for seven years, said the issue is "a health hazard, and needs to be addressed."
The Nepalese authorities haven't come up with a plan on how to tackle the issue yet, but this year marks the start of garbage monitoring on the world's highest peak, Puspa Raj Katuwal, the head of the government's Mountaineering Department, said.
Last year, new rules made it obligatory for climbers to bring back 8 kilos of rubbish from the mountain, the amount calculated to be thrown away along the route. What's more, there is a deposit of $4,000, and this isn't returned unless climbers comply with the regulations.
Over 4,000 climbers have conquered Everest since 1953, and hundreds of others have died trying. Last year's season was halted due to the death of 16 guides in an avalanche.