'If I was Iran, I would build the bomb': Media mogul Kim Dotcom speaks out on nukes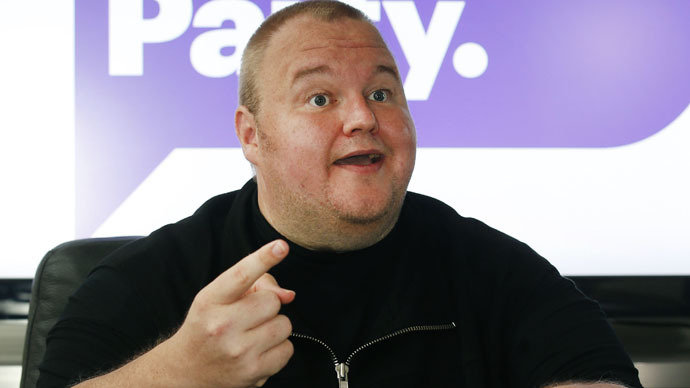 Megaupload founder, media mogul Kim Dotcom has posted on Twitter about the latest events in the US-Iran nuclear deal. He wrote: "If I was Iran, I would build the bomb. It's the best insurance available to keep the US and Israel from invading."
If I was Iran, I would build the bomb. It's the best insurance available to keep the U.S. and Israel from invading. @khamenei_ir

— Kim Dotcom (@KimDotcom) March 3, 2015
His statement comes as Washington and Tehran are close to agreeing a deal on uranium enrichment, with Tel Aviv opposing the move, saying the step threatens Israeli security.
Kim Dotcom, whose frozen assets were worth $40 million at the time of his arrest, is known for his controversial moves, related to both the internet and politics.
A month ago, Dotcom said he would 'kill Skype' with the new video-calling service MegaChat which works with encrypted information, making sure users' communication is secure.
In 2012, Dotcom started recording an album, which was released in 2014. It included a cut called "Mr President", a protest against President Obama, who Dotcom believes was to blame for shutting down his Megaupload file-sharing giant.
Kim Dotcom is currently awaiting an extradition trial in June, launched by the US in his adopted home of New Zealand.
Dotcom's party failed during the New Zealand election campaign, scoring only 1.3 percent of votes, and the businessman said he'd become 'a pariah' after the campaign.
READ MORE: 'Hillary's worst nightmare': Kim Dotcom flags US Internet Party launch
"It's turned into something very ugly. The funny thing is I haven't changed and I don't think I've done anything wrong. I'm still the same guy who only a matter of months ago people were cheering for," he added.
The legal battle with the US began three years ago, when his file-sharing website Megaupload was shut down following a police raid on his mansion in Coatesville, near Auckland. Copyright infringement and conspiracy charges were subsequently brought against the internet tycoon.
You can share this story on social media: