Israel surprises with unexpected military drills in West Bank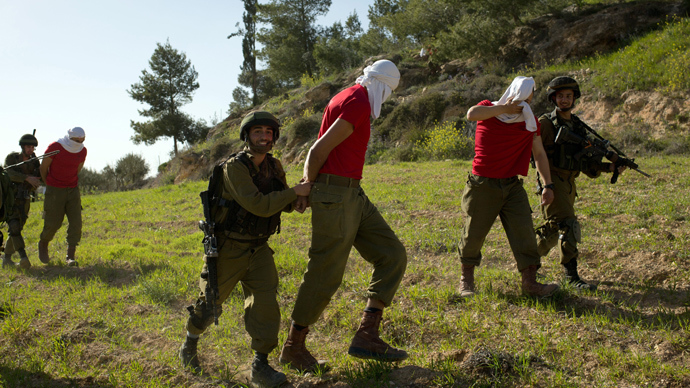 Israel's army announced it is carrying out a two-day "surprise exercise" in the West Bank, with thousands of reservists participating in what marks the first drill of its kind in three years.
The new army chief, Lieutenant Gadi Eisenkot, called up "some 13,000 reserves, 3,000 of whom will physically report for active duty," according to the military statement.
"It really is unusual in its scope," a military source told The Jerusalem Post. "We activated all of the operational forces that are part of the Central Command's emergency responses. This includes many ground forces, the air force, intelligence, and extensive cooperation with the Shin Bet. Special forces are involved too."
During the drill, the military will practice the deployment of "large forces to the field" in the event of sudden escalation in the West Bank, the source added.
Some of the first video footage from the war games, shot by an Israeli TV channel, shows soldiers in armored vehicles handling casualties in the field.
The Israeli army told the Palestinians that the drill is likely to run for two days.
The Israeli move coincided with Palestinian authorities announcing that they could potentially dissolve security cooperation with Israel in the West Bank. The statement came in response to Israel halting the transfer of tax funds collected for the Palestinian Authority two months ago, after the Palestinians went ahead and joined the International Criminal Court.
READ MORE: ICC opens inquiry into possible war crimes in Palestinian territories
"Decisions will be taken regarding all forms of relations with Israel," a senior official of President Mahmoud Abbas's Fatah movement, Mahmoud Al-Aloul, told reporters on Sunday.
But an Israeli military spokeswoman denied any connection when speaking about the timing of the exercise. "[It was] not necessarily linked to anything specific," she told Reuters.
Such drills are "held from time to time," the spokeswoman added. The last one took place in 2012.
The drills come as Israel prepares for general elections on March 17 and Prime Minister Benjamin Netanyahu rallies voter support for his Likud Party.
READ MORE:Netanyahu's campaign video: Liberals to let ISIS into Israel
The Palestinians have been demanding the West Bank for decades, viewing it as part of a future independent state. But despite international criticism, the Israeli government continues to encourage the Jewish population there to build more settlements.