US hammers out 'bottom lines' for Iran nuclear deal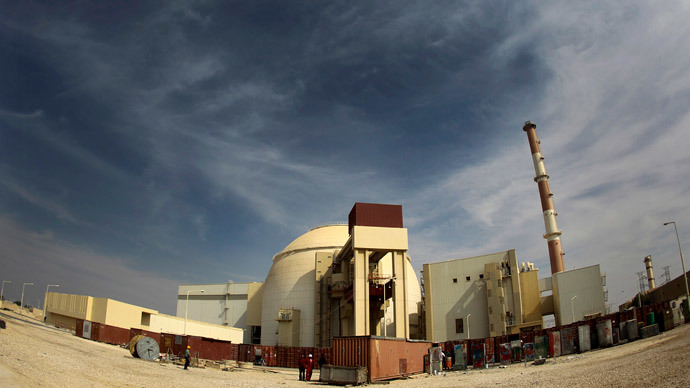 The Obama administration has laid out a rigorous outline for Tehran to follow before an agreement can be reached regarding Iran's nuclear program, the details of which will be discussed in talks next week.
The White House is showing optimism after "sticking to its guns" and remaining patient through an extended negotiation process with Tehran "because we have held firm to certain bottom lines," a senior US administration official said.
"We will only accept an agreement that cuts off the different pathways to the fissile material that Iran needs for a nuclear weapon," the official told AFP.
READ MORE: Iran test-fires 'new strategic weapon' to battle 'Great Satan' US
Washington's demands that Iran "reduces significantly" its present number of operating centrifuges and agree to "unprecedented" inspections of both nuclear and production facilities, including uranium mines and other similar sites.
The US also wants Tehran to be prevented from developing weapons-grade plutonium at its Arak reactor as well as agree not to use its Fordo nuclear plant to enrich uranium. That would leave only Iran's Natanz plant capable of enriching uranium, which at high grades can be used in nuclear weapons.
"We are insisting…that sanctions can snap back into place if Iran were to violate the agreement," the US official said.
Tehran says it is pursuing a nuclear energy program for its civilians, rejecting Western allegations of a secret bomb agenda.
At a speech to mark the 36th anniversary of the Islamic revolution, Iran's President Hassan Rouhani expressed confidence that an agreement would be concluded.
READ MORE: Saudi Arabia to allow Israel use of its airspace to strike Iran – report
"In recent months we have shown the flexibility necessary to resolve this political issue," he said. "We hope that the other negotiating party can show more than before. If so... in a short time the disputes can be resolved."
Earlier this month, the supreme leader of the Islamic Revolution, Ayatollah Khamenei, favored an agreement, but he warned that Iran would reject any accords if they contradict national interests.
Iranian Foreign Minister Mohammad Javad Zarif mentioned in January a fatwa issued by Supreme Leader of the Islamic Revolution Ayatollah Seyed Ali Khamenei that placed a religious ban on the possession and use of nuclear weapons, saying, "We believe that all nuclear weapons should be dismantled," the FARS news agency reported
US Secretary of State John Kerry is heading for Switzerland, where he will meet with his Iranian counterpart Mohammad Javad Zarif as part of the P5+1 negotiating group.
Several factors have increased tensions over the negotiation process, including a controversial visit to Washington next week by Israeli Prime Minister Benjamin Netanyahu, who will address a joint session of Congress.
READ MORE: 'Cherry-picked leaks': US accuses Israel of distorting Iran nuclear talks details
Netanyahu's invitation to speak before Congress, extended to the Israeli leader by Republican House Speaker John Boehner without the previous knowledge of the White House, which is standard protocol in such cases, has driven US-Israeli relations to their lowest levels in many years.
Meanwhile, negotiators are under pressure to reach an agreement with Iran before a March 31 deadline, with the final technical details to be finished by June 30.
US officials remain cautiously optimistic, saying "the negotiations have advanced substantially, gaps have narrowed."
"When we have an agreement it has to be measured against the alternatives," the US administration official was quoted as saying.
The United States in the past has warned that "all options remain on the table" regarding Iran.
You can share this story on social media: