Saudi Arabia to allow Israel use of its airspace to strike Iran – report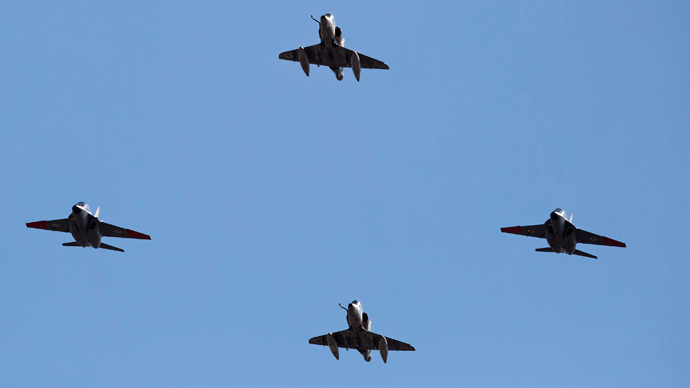 Saudi Arabia has reportedly agreed to let Israel use its airspace to attack Iran if necessary, in exchange for "some kind of progress" on the Palestinian issue, Israel's Channel 2 TV station quoted an unnamed European official as saying.
"The Saudis have declared their readiness for the Israeli Air Force to overfly Saudi air space en route to attack Iran if an attack is necessary," the report stated. In return for cooperation, Saudi Arabia wants to see some "progress" on the Palestinian issue.
The move will reportedly allow Israel to bomb targets in Iran by offering a shortcut, which will save fuel and time.
The Saudi position was confirmed during multiple diplomatic talks, according to the TV report. "The Saudi authorities are completely coordinated with Israel on all matters related to Iran," the European official from Brussels was quoted as saying.
The report also revealed that the two states share intelligence when it comes Iran's nuclear program.
There are no diplomatic ties between the two states, but there have been various reports in the past that Riyadh and Jerusalem have been cooperating when it comes to Iran and its uranium enrichment program.
For example, in November, Israel's Mossad and Saudi officials were said to be working on contingency plans that could have included an attack on Iran if its nuclear program was not curbed enough, according to a report. It was also revealed that the Saudis were willing to assist an Israeli attack by cooperating with the use of drones, rescue helicopters, and tanker planes.
READ MORE: Israel working with Saudi Arabia on Iran's nuclear contingency plan - report
"It is not the first time this issue has been raised, of creating an air corridor from the Saudi Arabia side to Israel to arrive directly to Iran," Tal Pavel from the International Institute for Counter Terrorism told RT. He noted, however, that "the possibility of an event like this happening is very low."
If Israel accepts the demand of "restarting Israeli-Palestinian peace negotiations," it would "do a lot to ease the tensions in the Middle East," Pavel added.
The Israeli report comes amid a rift between Israel and the US on the issue of Iran nuclear talks. The talks include P5+1 powers – China, France, Russia, the UK, and the US, plus Germany.
Last week, the White House and State Department stated that Israel has inaccurately provided information and twisted the official US position in nuclear talks with Iran, and accused Jerusalem of "selectively" leaking details of sensitive talks.
READ MORE: 'Cherry-picked leaks': US accuses Israel of distorting Iran nuclear talks details
The P5+1 talks, which are aimed at resolving the long-running dispute over Iran's nuclear program, will continue until the end of June, after parties failed to reach a deal by the previous November 24 deadline.
At the beginning of February, Iran said it would resume the expansion of its uranium enrichment capacity if Washington introduced more sanctions against the country.
You can share this story on social media: