7-minute massacre: French media release details from Paris kosher store attack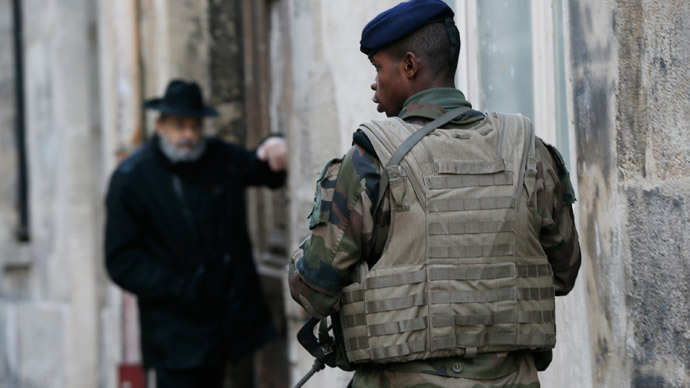 French media have released new details of Paris kosher supermarket massacre where gunman Amedy Coulibaly shot four people dead. He asked their ethnicity and if the hostage was Jewish he wasted no time in killing that person.
"Stand up or I'll kill you all," shouted Amedy Coulibaly after he took hostages at the kosher supermarket in Paris on January 9.
The first 7 minutes 45 seconds of the attack were recorded on a go-Pro camera attached to the gunman's body. The abstract of the transcript have been published in Le Nouvel Observateur, a weekly French newsmagazine, on Thursday.
"Nobody move" shouts the attacker again, grabbing one Jewish customer at the supermarket and shooting him dead.
Coulibaly then turns to another hostage: "You haven't understood? What is your origin?" The man replies that he is a Jew.
"So you know why I am here then. Allahu Akbar," Coulibaly shouts, executing him in front of the of the other hostages. Three people were killed in these 7 minutes.
The video shows the gunman was attempting to reload his Kalashnikov rifle.
He was also trying to upload the video to the internet, but due to a technical glitch the attempt was unsuccessful. He even asked one of the hostages to do it.
READ MORE: Pledging allegiance to ISIS: Paris hostage taker Coulibaly 'jihad video' emerges
Coulibaly was eventually killed by police officers in an operation that ended the three-day massacre in Paris that killed 17 people.
The gunman is allegedly seen in another video which emerged several days after the tragedy. Coulibaly swears his allegiance to the Islamic State (IS, formerly ISIS) in the clip and attempts to justify the wave of terror attacks.
A man much resembling Coulibaly talks of being a "soldier of the Caliphate" and states that he coordinated his plans with the brothers Cherif and Said Kouachi, who perpetrated a bloody massacre at the offices of French satirical magazine Charlie Hebdo January 7.
READ MORE: Killing of policewoman in Paris linked to Charlie Hebdo attack – reports
He pledges his allegiance to "Caliph Ibrahim," also known as Abu Bakr al-Baghdadi, the self-proclaimed leader of the Islamic State and speaks about the attack on a policewoman in the past tense, suggesting the attack had already been completed.