Violent arrests as hundreds rally over 43 missing students in Mexico (VIDEO)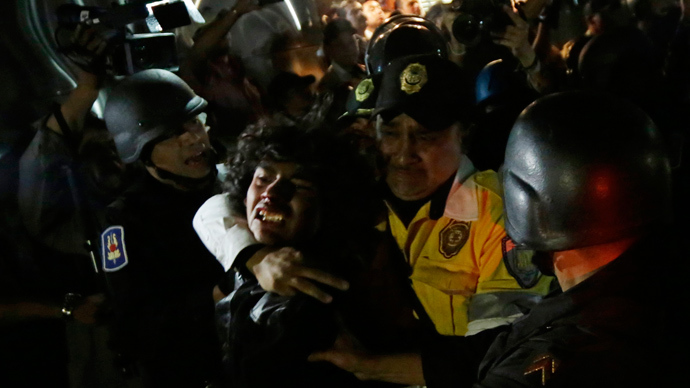 Mexican police have violently arrested protesters rallying in the country's capital. The demonstrators are demanding a thorough investigation into the disappearance of 43 students in September.
Clashes between police and protesters broke out during the organized demonstration on the five-month anniversary of the disappearance of the students, who were attending a teacher training college in Ayotzinapa, located in southwestern Guerrero state.
Thousands have been rallying in the streets of Mexico City, carrying banners with the portraits of the missing students. Their parents were leading the demonstration.
Speaking to the media, the spokesman for the families, Felipe de la Cruz, called the disappearance a "state crime" that "should not go unpunished", according to news agency EFE.
Violentas detenciones en #AcciónGlobalAyotzinapapic.twitter.com/v3yybtsqqi

— Proyecto Ambulante (@proamboax) February 27, 2015
The rally went peacefully through the streets of the capital, but the clashes started when part of the crowd moved to one of the subway stations. According to the Mexican newspaper Milenio, police asked a group of "hooded" youths to open their faces, which they refused to do. Six men, mostly teenagers, have been arrested.
Reportan detenciones cerca del Metro Sevilla Fotos: @bpm_arian4http://t.co/S29uDBCO51pic.twitter.com/bNaLZF8Vey

— Sin Embargo (@SinEmbargoMX) February 27, 2015
The disappearance of the students has caused a number of mass protests in the country, with people demanding justice and demonstrating against corrupt police. The Mexican president's visit to the United States last month was also marred with rallies.
READ MORE: Protesters demand answers on 'Missing 43' from Mexican president outside White House
An independent investigative report published in December claimed the Federal Police were directly involved in the attack, contrary to authorities' statements. The college the students were attending is known for its left-wing activism. The probe also asserted that state and federal authorities were tracking the students' movements on September 26 in real-time; not only did authorities do nothing to prevent their abduction and consequent murder, but police reportedly directly attacked the youths. It is believed the students were handed over to local gangs and killed.
Reportan detenciones en Av Chapultepec Fotos: @maskbalamhttp://t.co/S29uDBCO51pic.twitter.com/0LFdSmvX1a

— Sin Embargo (@SinEmbargoMX) February 27, 2015
Maria de los Angeles Pineda Villa, whose husband José Luis Abarca Velázquez was the mayor of Iguala when the students went missing, has been charged with organized crime and money laundering. Pineda is being held in a maximum security prison until the start of her trial.
You can share this story on social media: