​Iran tests 'combat robot with machine gun' at massive drills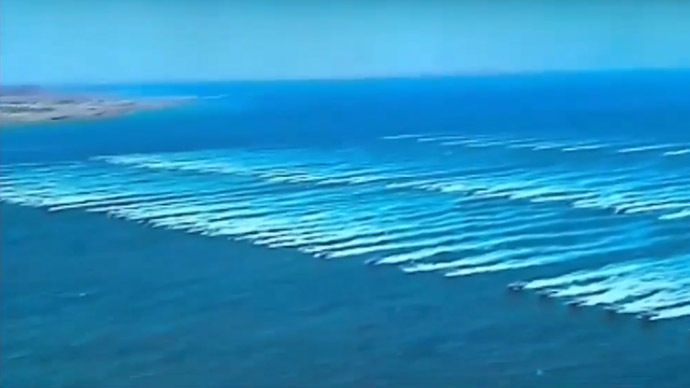 Iran has reportedly tested an armed robot during the massive war games currently underway in the country. Pictures shown by the local news outlets showed a tracked mobile turret armed with a machine gun.
The combat robot was tested by the Islamic Revolutionary Guard Corps (IRGC) during the Prophet Mohammed-9 exercise in the Jask region.
Iran's Tasnim news agency said the robot is equipped with a 7.62 mm caliber machine gun as well as optical and thermal cameras, allowing operation in night conditions. It is said to have an operational range of 5 to 7 kilometers. Pictures can be viewed here.
READ MORE: Iran bombards 'mock' US aircraft carrier in naval drills
The second day of the IRGC exercises give the Iranian military a chance to test in the field other new weapons, including RPH reconnaissance drone, Jamarat short-range missile, 23mm Gatling gun Asef and Siyavash sniper rifle, the media reported.
Earlier the revolutionary guard's naval forces destroyed a mock US aircraft carrier in a gunboat mosquito fleet attack.
#Photos: Iran's #IRGC Destroys Mock US Aircraft Carrier pic.twitter.com/If9gZ0WMSN

— Tasnim News Agency (@Tasnimnews_EN) February 25, 2015
The war games that started Wednesday are to last for three days. General Mohammad Ali Jafari said the drills send a "message of [Iran's] might" to "extraterritorial powers," a veiled reference to the United States.
READ MORE: Russia offers Iran latest anti-ballistic missile system, Tehran considering deal – Rostec CEO
Iran regularly carries out naval war games in the region. Tehran is keen to assert its influence within the Persian Gulf given the latter's economic and political importance. Tehran has often said that it is prepared to block the Strait of Hormuz if it ever came under military attack.
In December, Iran conducted six days of drills in the Strait of Hormuz in which it tested warships and submarines, while also testing a suicide drone able to hit aerial and ground targets, as well as ships.
The drone, which is known as Yasir, is equipped with state-of-art, light cameras for reconnaissance. It can fly for eight hours with a range of 200km and reach an altitude of 4,500 meters.
You can share this story on social media: