'Hopeless': Angry Aussie activists slam PM Abbott with Obama-style poster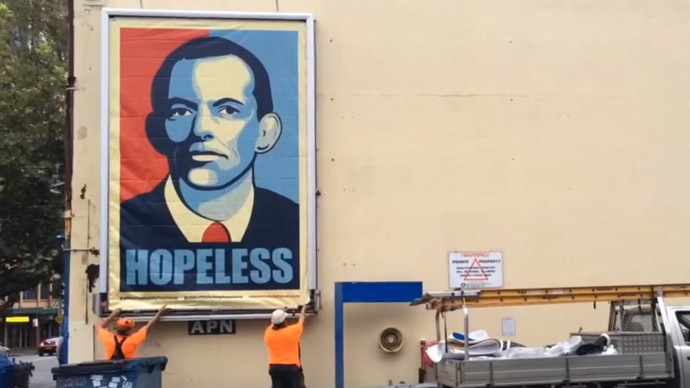 An activist group has released a poster bearing the likeness of the Australian prime minister above the single word "hopeless" to slam the leader for his "uncaring ministry."
The 4.5-meter poster, installed in the Sydney suburb of Chippendale, was created by graphic designer Michael Agzarian under the political activist group Abbottsolutelynot.com

The group's website explains the poster was inspired by Shepard Fairey's Barack Obama iconic "HOPE" poster, borrowed with artistic license to demonstrate "the grim situation Australia finds itself in with Tony Abbott as Prime Minister leading an equally inept and uncaring ministry."
Agzarian, who put up more than $3,000 of his own money towards the anti-Abbott campaign, has worked in the past with clients such as Commonwealth Bank, Australian Red Cross, New South Wales Police and a number of Australian universities, The Sydney Morning Herald reported.
"Obama gave people hope, whereas Abbott just makes us feel hopeless – and is pretty hopeless himself," Agzarian, who is the founder of online community group abbottsolutelynot.com, told the daily.
"This is a government that is leaving a lot of people behind."

The group is hoping to attract enough donations to put up more similar posters around the country

"We want more posters up around Sydney and other major cities like Canberra and Melbourne," but, as the website admits, "These aren't cheap!"

Agzarian is pleased with the response the poster, which will remain on Regent Street for the next four weeks, has generated so far.
READ MORE: Death row Aussies in Indonesia: Australia wants clemency, threatens 'pulling foreign aid'
"It's great to see people tweeting about it and taking selfies in front of it," he told SMH.

Abbott's government has fallen hard in the polls for months. According to the most recent Newspoll survey, two-thirds of respondents say the prime minister is "out of touch" with average Aussies, while a whopping 77 percent consider him "arrogant."

In a secret ballot earlier this month to determine whether the leadership of his ruling Liberal party be declared open, Abbott managed to attract just 61 out of a possible 101 votes – but just enough to hold onto power for another six months where he promised to "turn the Liberal party around."