ISIS kidnaps at least 150 Assyrian Christians in northeast Syria - report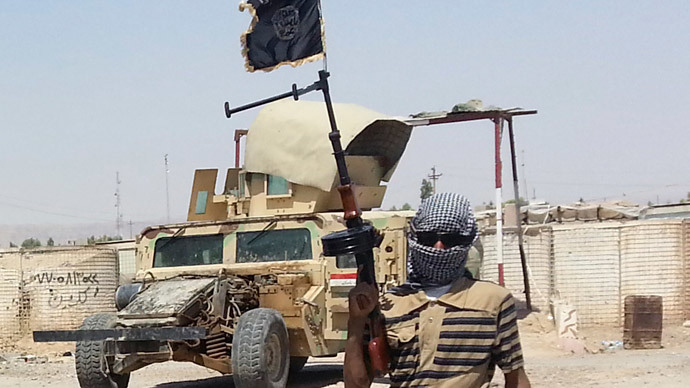 The Islamic State has kidnapped at least 150 Assyrian Christians in northeast Syria, Reuters reported, citing a monitoring group.
The abductions happened after dawn, as villages inhabited by the ancient Christian minority were raided by the terrorist group near the town of Tel Tamr, according to the UK-based Syrian Observatory for Human Rights.
Tel Tamr is situated in the countryside of the city of Hasaka, controlled primarily by Kurds.
"We have verified at least 150 people who have been abducted from sources on the ground," Bassam Ishak, President of the Syriac National Council of Syria, told Reuters.
The monitor had no details on the abducted people, except that they were kidnapped from two villages, Tal Shamiram and Tal Hermuz, following the attack by Islamic State fighters, AFP reported. The numbers include elderly individuals and women.
READ MORE: ISIS plans to capture Lebanese territories, declare emirate – report
This comes as Syrian Kurds carried out an offensive in northeastern Syria, next to the Iraqi border, inflicting losses on the IS.
During the offensive, Kurds have taken 24 villages and hamlets, and their plan is to seize the town of Tal Hamis and surrounding areas from Islamic State.
Also, the Syrian Observatory for Human Rights said the US-led coalition carried out a series of airstrikes around Tal Hamis on Tuesday that killed 14 IS fighters.
READ MORE: Egypt eyes revenge after ISIS executes 21 Copts, releases video
It is just over a week since the terrorist group released a graphic video showing the execution of 21 Egyptian Coptic Christians after their abduction in Libya.
Egyptian President Abdel Fattah Sisi called for a UN resolution enabling international forces to intervene in Libya following the incident, but didn't get much support.
The killings triggered a harsh response from the Egyptian government, with air strikes carried out by the country's military shortly after the footage emerged.
READ MORE:Egyptian, Libyan airstrikes on ISIS targets in Libya after terrorists behead 21 Copts
Also, a couple of weeks ago, shocking news emerged that the IS militants have killed kidnapped Iraqi children in ways as brutal as burying alive and crucifixion.
Those children not killed by the terrorists are sold as sex slaves, according to UN data.
About a month ago, Japanese journalist Kenji Goto was beheaded by Islamic State, the latest in a series of journalists to be killed by the terrorist group.