Batons vs Molotovs: Former Berkut riot police recall Ukrainian coup
Former members of the Berkut special force, accused by Kiev of instigating violence during Maidan protests a year ago, feel betrayed by the government and argue they had much less ammunition and supplies than those on the other side of the barricades.
Mikhail, formerly a member of the Crimean Berkut, shows RT how he was equipped to confront Maidan protesters a year ago: A pair of leg guards, a helmet, a shield and a rubber baton.

"We didn't use weapons," he says, recalling how protesters were growing more and more aggressive with each day and how he once went up in flames, after being hit by a Molotov cocktail.

"My clothes were burning, but thanks God the fire was extinguished before it got to my skin. Still, I was injured after a likely homemade explosive landed near me. Such explosives were often used against police by the people from the other side."
READ MORE:BBC airs Maidan fighter admitting he fired on police before Kiev massacre
Mikhail says he didn't like getting phone calls from home, as he had to lie he was in the rear so as not to scare anyone. But he was in the epicenter of the fighting. Being a member of the Crimean Berkut was double danger.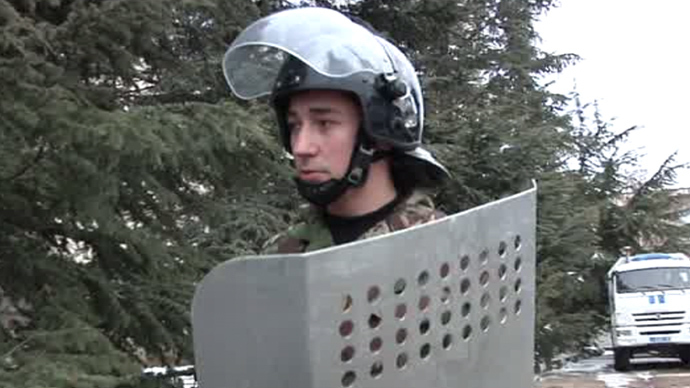 "They were after the Crimean Berkut, because we spoke Russian. When someone in Kiev spoke Russian back then, people asked: 'Why aren't you speaking Ukrainian? You are from Crimea?' and then insults would follow that I don't want to repeat."

Mikhail's squadron did not take part in the bloody events of February 20, when more than a hundred people lost their lives. He says when they learnt of shooting in the streets they decided not to go there, as even their shields were not bullet-proof and they did not have guns to respond to gunfire.

Accusing Berkut of violence is nonsense, Mikhail believes.

"I still feel bitterness about it, because we were betrayed by the government," Mikhail says. "I was doing my job. I was protecting the law and order of the country I was a citizen of."
READ MORE: 15 terrifying images from Kiev's 2014 Maidan revolution
After the February coup, he returned to Crimea, which in March voted for seceding from Ukraine and joining Russia. Mikhail says getting Russian citizenship was the most natural idea.

Aleksandr Popov and Sergey Khairulsky, also former Berkut, feel the same about their Russian citizenship. They now serve in the Moscow paramilitary police and say they have nothing to be ashamed of. They feel betrayed by Ukraine.

Sergey recalls Maidan protesters as a well-organized and well-sponsored force.

"We confiscated phones when we detained people," he told RIA Novosti. "We also found a lot of those on the barricades. We regularly came across text-messages, listing money transfers. Card numbers, phone numbers, sums of money in hryvnyas and dollars."
READ MORE: 10 dramatic videos from Ukraine's Maidan riots in 2014
Aleksandr and Sergey say it's strange there's almost not a word of casualties among the Berkut, while they saw police personnel die and get wounded.

"On Profsoyuznaya one shooter injured six of our people," Aleksands recalls. "Where he is shooting from is unclear. We went inside that house and found a young man and a girl each with a gun. We took them to the headquarters. I guess they later returned to Maidan as heroes".

Both the ex-Berkuts say they got machine guns on February 21, a day after the bloodshed. The weapons just helped them get out of Kiev, escaping the extremist Right Sector movement activists, who wanted Berkut publicly on their knees at Maidan and later on trial.

All of the former Berkut interviewed say they don't feel sorry for what they did a year ago, and wonder why fulfilling one's duty could ever be interpreted as a crime.
READ MORE:Maidan murders: 1 year on, still no justice over Kiev massacre
During last year's clashes between Ukrainian anti-government protesters and riot police some 20 police officers and over 100 protesters – now revered as 'the heavenly hundred' in Ukraine – were killed. The majority were victims of the February 20, 2014, incident in which unidentified snipers started shooting on both sides of Independence Square and adjacent Instituskaya Street. The mass killings were the tipping point of the 2014 Maidan protest, escalating the already violent confrontation into an armed coup.

A police investigation conducted by the new authorities managed to produce several suspects, all of them Berkut riot police members, who are currently being prosecuted in Ukraine. The evidence incriminating them has never been made public, with Reuters reporting that the investigation process was flawed.
READ MORE:Reuters investigation exposes 'serious flaws' in Maidan massacre probe
You can share this story on social media: