Russia deploying next-gen Nebo-M radar complexes to counter NATO threat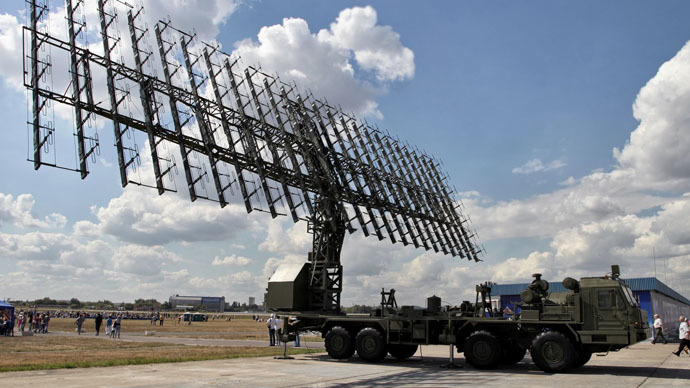 Russia has begun deploying the next generation of Nebo-M anti-missile radar facility systems as part of a responsive measure to a threat stemming from NATO anti-ballistic missile systems in Eastern Europe.
"The mobile multi-range programmable Nebo-M complex is capable of performing the tasks of providing information on small-sized aerodynamic and hypersonic targets in a difficult jamming background, as well as providing information for anti-missile weapon systems," said colonel Aleksey Zolotuhin, a spokesman for the Russian Defense Ministry's press service.
Russian troops are deploying "Nebo-M" radar air defense systems https://t.co/fTOgKTx1sfpic.twitter.com/s3BVMgDctO

— Alexandru Cociorvei (@AlexandruC4) February 19, 2015
The development and deployment of next-gen anti-missile systems featuring Active Electronically Scanned Array (AESA) technology is a top priority for the Russian Defense Ministry, as US anti-ballistic missile system are springing up in Romania, Turkey, Poland, and even in Spain.
The new Nebo-M 3-D radar system features a programmable multi-band design. The complex includes central data fusion and command post module as well as three radars, all deployed on separate high-mobility 8 x 8 24-ton vehicles. According to Aviatioweek, radars feed data to the command post using high-speed narrow-beam digital data links in the microwave band.
В России начали разворачивать новую РЛС «Небо-М» http://t.co/ekb37K4x6Tpic.twitter.com/diYisyWgIa

— TOPWAR (@topwar_ru) February 19, 2015
The radar is designed to automatically detect and track airborne targets such as ballistic missiles, stealth aircraft, or drones, as well as hypersonic targets. In the circular scan mode the complex is able to track up to 200 aerodynamic targets at a distance and at altitudes of up to 600 kilometers. In sector scan mode, Nebo-M can track to 20 ballistic targets at ranges of up to 1,800 kilometers and at an altitude of up to 1,200 kilometers.
In October, the Russian Defense Ministry unveiled plans to build several new anti-missile radars in order to cover the entire territory of Russia by 2020. Moscow also announced that an early warning radar station in the western Kaliningrad Region would be put on full combat duty by the year's end.
Специалисты #ВВКО вводят в строй новейшие РЛК #НебоМ, способные «видеть» гиперзвуковые цели: https://t.co/YBcaCvkEPspic.twitter.com/Qvdl90Ud8D

— Минобороны России (@mod_russia) February 19, 2015
You can share this story on social media: