'Strategic rift': Hungary PM criticizes EU partners trying to isolate Moscow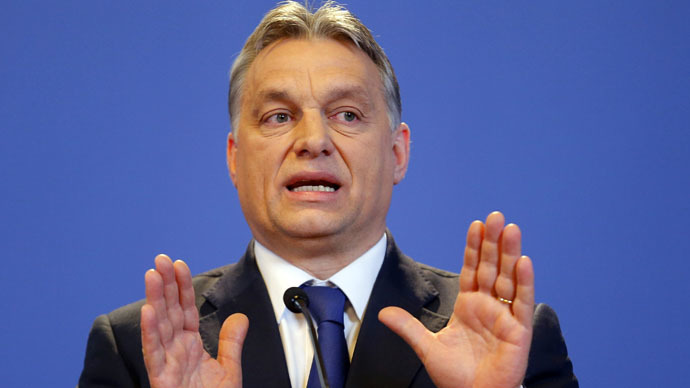 Hungarian Prime Minister Viktor Orban has criticized EU's attempts to isolate Moscow, in particular blaming former Polish PM and President of the European Council Donald Tusk for spearheading the European anti-Russia crusade.
"This rift in the EU is very deep, of a strategic nature," Orban said regarding the division in the EU and on how to build the bloc's relationship with Russia.
The European Council President Tusk is "on the other side" of this dividing line, Orban said, a day after striking economic deals with Russian President Vladimir Putin.
Tusk has been an ardent critic of Moscow's stance throughout the Ukrainian conflict, and on numerous occasions has called for a much tougher sanctions against Moscow. He speaks out against the "appeasement" of Moscow.
Once again, appeasement encourages the aggressor to greater acts of violence. Time to step up our policy based on cold facts, not illusions

— Donald Tusk (@eucopresident) January 24, 2015
But the EU countries are divided in Brussels in their attitude towards Russia. Orban specified that the Baltic States and Poland sided with the United States in their belief that Russia should be gradually excluded from cooperation with Europe.
READ MORE: 'Europe non-competitive without Moscow': Hungary & Russia seek closer energy, gas transit ties
On the other hand, Hungary, Czech Republic, Slovakia, and Austria, Orban claims, believe cooperation with Moscow is essential.
"We think that without cooperation with the Russians we cannot achieve our goals," the Hungarian prime minister said, referring mainly to energy security, which the EU sanctions against Russia jeopardize.
Russia also sees Hungary as a strategic partner and will pursue mutually beneficial energy projects. This was Vladimir Putin's message to his Hungarian counterpart on Tuesday, as both countries sealed a number of energy deals.
Orban's foreign policy towards the Ukrainian conflict has been criticized in the West from the onset as too soft. Generally supporting a Moscow-backed approach of achieving a long lasting peace in the region, Orban has on numerous occasions spoken out against discriminatory treatment of Russia by Brussels.
His vocal criticism of EU and US role in European foreign policy forced Washington to issue travel bans for several Hungarian businessmen. In October, US Chargé d'Affaires André Goodfriend, visiting the country warned that Hungary should "stand firm with the EU, with EU sanctions" stating that it was not the time for Hungary to "break with its EU partners to criticize so publicly the approach that the partners have taken."
You can share this story on social media: