​German TV channel under fire over fake 'Russian tanks in Ukraine' footage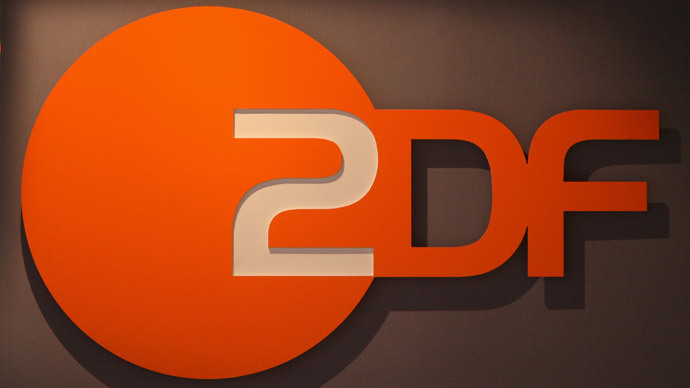 A citizen's media group has lodged a complaint against German television channel ZDF for airing a photograph of Russian tanks in eastern Ukraine, which in reality were Russian tanks on patrol in South Ossetia in 2008.
Just days after a US politician presented on the Senate floor falsified images of Russian tanks purported to be taken in eastern Ukraine, one of Germany's largest broadcasters appears guilty of the very same error.
The German media watchdog group, known as the Permanent Open Committee of Media Monitoring, has issued a complaint against federal channel Zweiten Deutschen Fernsehens (ZDF) over false reporting on the situation in eastern Ukraine, Deutsche Wirtschafts Nachrichten has reported.
READ MORE: 'Secure West Point training': Ukrainian battalion leader lists US tour plans
The complaint involves a photograph that purports to show Russian military presence in eastern Ukraine, a claim that Moscow has denied on numerous occasions.
The news segment aired by ZDF featured a photo with the caption "Russian armored vehicles moved through Isvarino in the Lugansk region, February 12, 2015," citing "Ukrainian army spokesman Andrei Lysenko." However, there is one glaring problem with the photograph in question: it shows Russian tanks in South Ossetia, not Ukraine.
The media watchdog determined that the photograph, which RT believes is dated from the 2008 Russian-Georgian conflict in South Ossetia, was already used in a Korean blog posting from 2009.
Meanwhile, the timing of the erroneous news segment – on the very same day the leaders of Russia, Germany, France and Ukraine were meeting in Minsk in an effort to broker a Ukrainian ceasefire – could not have been less propitious.
In their complaint, the Open Committee states that "it would be interesting to know why such an image, which has nothing to do with the news in question, is being repeated, meant as it is to convince a third party of the truthfulness of assumptions about an "invasion by [Russian] armor."
Diese Programmbeschwerde war zu erwarten: https://t.co/b9oyskQsDD Gibt's noch eine Reaktion vom @ZDF? pic.twitter.com/KGMw9r7WUS

— Matthias Meisner (@MatthiasMeisner) February 14, 2015
Maren Mueller, a founding member of the Open Committee, says that a lot of German coverage of events in eastern Ukraine "has reached the height of fantasy, and is not worth taking seriously."
More specifically, Mueller points to the "dangerous closeness" that exists between the media's reporting and the storyline of the conflict being provided by government officials.
This is not the first time, however, that public officials have been caught passing off false information in what appears to be a desperate attempt to prove Russian participation in Ukraine.
On February 11, high-ranking US Senator Jim Inhofe presented to members of Congress what he said were photos of Russian tanks operating in eastern Ukraine.
UPDATE: Serious questions raised about authenticity of Inhofe's Ukraine photos. Some from Georgia '08. More info: http://t.co/vrv9yn8mxh

— Adam Kredo (@Kredo0) February 12, 2015
"Putin keeps saying 'we don't have any Russians in there with the separatists, it's not us, we're not doing it.' Look, here they are. These are the pictures we brought back with us." After showing the photographs, which turned out to be images from Russia's 2008 conflict with Georgia, Inhofe presented grisly photos of dead Ukrainian civilians.
Inhofe said the things that are happening in Ukraine are just as bad as what happening "in ISIS, in Syria, and other places."
The same day Inhofe was forced to retract his allegations and issue an apology.
READ MORE: Busted: Kiev MPs try to fool US senator with 'proof' of Russian tanks in Ukraine (PHOTOS)
"[T]he Ukrainian parliament members who gave us these photos in print form as if it came directly from a camera really did themselves a disservice," Inhofe said in a statement. "We felt confident to release these photos because the images match the reporting of what is going on in the region. I was furious to learn one of the photos provided now appears to be falsified from an AP photo taken in 2008."
Meanwhile, the Russian Ministry of Defense has branded the latest batch of photographs, this time from the US ambassador to Ukraine, purporting to show Russian forces in Ukraine, as "crystal ball gazing."
On Saturday, the US ambassador to Ukraine, Geoffrey Pyatt, posted on Twitter what he claims are satellite photos of Russian artillery systems stationed near the town of Lomuvatka, about 20 kilometers northeast of Debaltsevo.
READ MORE: Russia shrugs off US envoy's 'evidence' of Russian troops in Ukraine
"We have failed to understand how those grainy dark patches in the photos published by US Ambassador to Ukraine Geoffrey Pyatt on his Twitter feed could prove anything," Major General Igor Konashenkov, a spokesman for the Russian Defense Ministry, told journalists later in the day.
"Unlike the American intelligence services, Russia's military [has] never considered crystal ball gazing a good way to check and confirm data."
You can share this story on social media: