'Dying out of poverty!' Thousands gather for anti-austerity rally in Athens (VIDEO)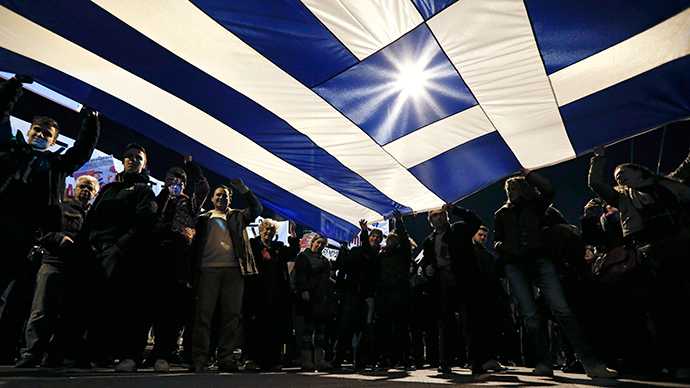 Some 20,000 protesters gathered outside the parliament building in Athens for an anti-austerity, pro-government demonstration ahead of Monday's planned bailout talks in Brussels.
Protesters waved banners reading "Dying out of poverty" and other messages, calling for an end to the strict austerity measures imposed as a condition of the massive 2010 bailout package doled out by the so-called troika (the IMF, EU and ECB).
"We want justice here and now...for all the suffering Greece has gone through the past five years," 58-year-old Theodora, who has been unemployed for the last three years, told AFP.
Images of the massive pro-government anti-austerity rally in Athens #Greece today #Mazi Via @TBMaj & @yannisBehrakispic.twitter.com/sTuXGlloyX

— Revolution News (@NewsRevo) February 15, 2015
Greece's new leftist government, which was swept into power in the January elections, has promised to renegotiate the country's debt and pull it out of its long-brewing financial crisis.
Many of the protestors showered Prime Minister Alexis Tsipras and the new government with praise for challenging Brussels.
Anti-austerity pro-government demonstration in Athens Feb. 15, 2015 REUTERS/Yannis Behrakis pic.twitter.com/GO7ts3Ngv0

— Yannis Behrakis (@yannisBehrakis) February 15, 2015
Talks between eurozone finance ministers regarding Greece's debt are scheduled for Monday. If an agreement is not reached by the end of the month – when the current deal expires – Greece risks being forced out of the eurozone.
Tsipras is pushing for a bridge program while a new deal is developed in the coming months.
The rest of the eurozone, however, maintains that Greece must stick to the commitments made under the previous deal, while the country is paying off its huge €280 billion loan.
Supporters in other European capitals also came out in solidarity with Greece. Around 2,000 people took to the streets of Paris, while hundreds gathered in London and Lisbon.
"The other countries are suffering just as bad as we are – particularly, Portugal and Spain. So once we started this … 'revolution', we're waking up the European people – it caught like wildfire," Leonidas Chrysanthopoulos, former Greek ambassador to Canada, told RT on Sunday. "This is good, solid support for European people and I hope that this message is getting across to the leaders of the European Union, who have been far away from the people they are supposed to serve all these years."
You can share this story on social media: