'Despeckle it!' NASA gets clearest views of Titan yet (PHOTOS)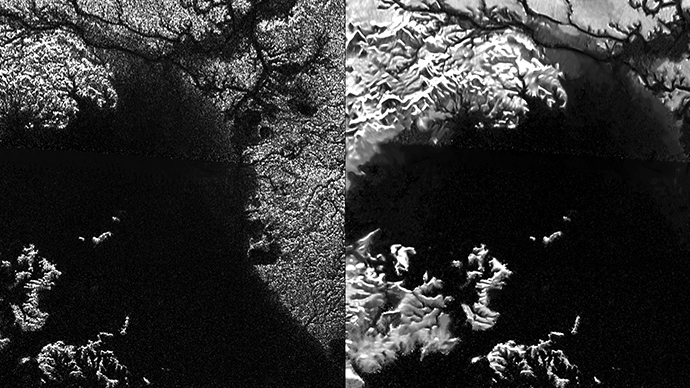 Researchers have developed a new method for viewing images of the Earth-like landscape of Titan, by despeckling dark and grainy images from the Cassini spacecraft. River channels and shorelines are seen in the pictures of Saturn's biggest moon.
READ MORE: Seeing stars: Traverse Solar System at speed of light (VIDEO)
Titan has been of particular interest to scientists, due to its remarkable likeness to Earth. The large moon is said to resemble a frozen Earth from billions of years ago. A new image processing algorithm has produced the clearest images of the moon to date.
New way to view Saturn's moon Titan: 'despeckle' it. Results in clearer images: http://t.co/x511y0liyO@CassiniSaturnpic.twitter.com/rc6tGqfAGw

— NASA (@NASA) February 13, 2015
Trying to analyze its surface has so far proven tricky, because Cassini radar images have been dark and grainy due to the moon's thick atmosphere and orange clouds.
The most spectacular photo of Saturn's moon ever taken (via @popsugartech) http://t.co/bSNd1ryQtI

— John Eddy (@woodymcfarley) February 8, 2015
The images "aren't visible light photographs, but rather maps made from bouncing radar off of Titan's surface," NASA wrote on its website.

The graininess – or "speckle noise" – made it difficult to interpret small features or identify changes in an area over time. But now, by using the new algorithm, scientists are capable of 'despeckling' the images and creating high-definition pictures of the moon's striking terrain.
The clearer views also give scientists an opportunity to perform more precise analysis on the processes shaping Titan's changing landscape.

"This new technique provides a fresh look at the data, which helps us better understand the original images," said Stephen Wall, deputy team lead of Cassini's radar team. "With this innovative new tool, we will look for details that help us to distinguish among the different processes that shape Titan's surface."
READ MORE: Jupiter's 'Great Red Spot' shows true colors, glows white in new infrared image
NASA also recently announced that a team has developed a concept for sending a submarine to explore Titan's mysterious Kracken Mare by 2040. The submarine would be able to sustain a 90-day, 2,000 kilometer journey to the depths of the methane sea.

Titan, the second largest moon in the solar system, is the only object other than Earth where such large quantities of liquids have been found.
You can share this story on social media: