​Seeing stars: Traverse Solar System at speed of light (VIDEO)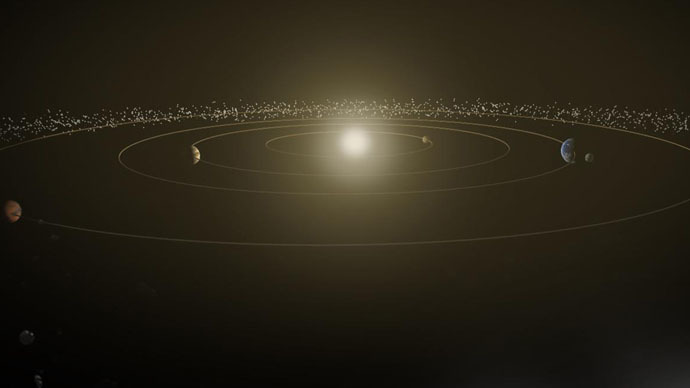 Ever imagined what it would be like to traverse the Solar System at the speed of light? A newly-released animated video attempts to recreate the out-of-this-world experience.
The ultimate ride begins on the surface of the sun, hurling you outwards at 186,000 miles per second (300,000kps), past the orbiting planets, the asteroid belt, until finally the sun appears as a faint glimmer among a sea of other stars.
Riding Light, a 45-minute short film by animator Alphonse Swinehart, succeeds in giving viewers some idea as the incredible vastness of the Solar System.
I suppose driving at the #speedoflight would make headlights useless.

— Ross Moore (@rossamoore) February 1, 2015
The video features a display that monitors the distance traveled and time elapsed since the journey's start, as well as a window that ticks down the time before the next planetary visit. Although not grounded in any hard science as to what zipping through space would actually be like, it will certainly get attention from astronomy buffs.
Lets Travel at the #SpeedOfLight(Sort Of).Be prepared to feel completely insignificant. #Universe#Science#Sunhttp://t.co/5whtNvvm9C

— Daniel Huerga (@DanHuerga) February 1, 2015
In any case, if the sensation of traversing the Solar System at the speed of light seems a bit too long, there is always the option to fast forward.
You can share this story on social media: