Schoolgirl virginity test plan dropped in Indonesia following intl uproar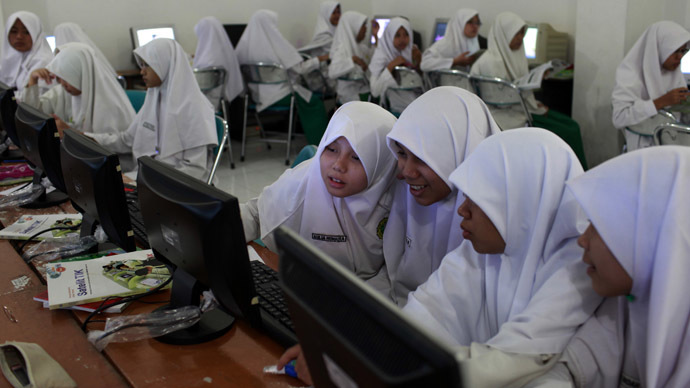 Lawmakers in Indonesia decided to scrub a "good conduct" regulation that would have required school girls to pass virginity tests in order to graduate from high school. Boys would have been exempt from the exams.
The proposal was dropped by Indonesian lawmakers on Wednesday and they apologized after sparking widespread condemnation. Amid public outrage, Ayub Junaidi, a council deputy speaker from the area of Jember in East Java, backed away from the proposal.
"On behalf of the Jember Consultative Council we'd like to apologize to the public, especially to all the women and girls across Indonesia," he told local website Kompas.com
Human Rights Watch (HRW) was outspoken about the "good conduct" regulation that was proposed in early February, saying it was a new hurdle to graduate that only targeted girls. The group decried the initiative as "appalling."
READ MORE:Sex or school? E. Java lawmakers aim to forbid graduation for non-virgins
#Indonesia drops plan to require girls to pass virginity tests to graduate high school http://t.co/lG8hYdNwyv@hrwpic.twitter.com/w07aevDeXK

— Alisa Tang (@alisatang) February 12, 2015
The mandatory "virginity tests" were intended by lawmakers to tackle perceived problems of "premarital sex and prostitution." According to data gathered from local hospitals, 10 percent of Jember's approximately 1,200 HIV/AIDS patients are students.
"What surprises us the most is they have had sex several times and with different partners," said Habib Isa Mahdi, a Jemba lawmaker from the People's Conscience Party (Hanura), according to the Jakarta Globe. "Moreover, the Ministry of Social Affairs said that Indonesia is in an emergency situtation against pornography – that's what drives us to make such regulations."
READ MORE:Female genital mutilation in US tripled in 25 years
Jember is East Java's third largest urban area. with a population of 2.3 million people. Indonesia is home to the world's largest Muslim population, and its top Muslim clerics opposed the proposal, saying it discriminated against female students and was contrary to Islamic teachings.
Outrage over plans to introduce virginity tests for girls attending Indonesian high schools – who would #MailOnlinehttp://t.co/s9A8Ltbt7d

— Bibek Debroy (@bibekdebroy) February 12, 2015
HRW said Indonesia's National Police has imposed the degrading tests on thousands of female applicants since as early as 1965. Indonesia's coordinating minister for politics, law and security told reporters that such tests have been obligatory for female military recruits as well. The test involves inserting two fingers in the vagina to see if the hymen is intact.
READ MORE:Denver teen convicted of trying to join ISIS gets 4 years in prison
The tests have been recognized internationally as a violation of international human rights treaties ratified by Indonesia. These treaties protect against discrimination and "cruel, inhuman or degrading treatment," according to HRW. Additionally, the World Health Organization stated: "There is no place for virginity [or 'two-finger'] testing; it has no scientific validity."
Previous attempts to introduce virginity tests for female students in South Sumatra in 2013 and in West Java in 2007 also backfired, after Indonesian civil society attacked the proposal as "against human rights" and "degrading and discriminatory."
You can share this story on social media: