US could permanently base warships in Australia – admiral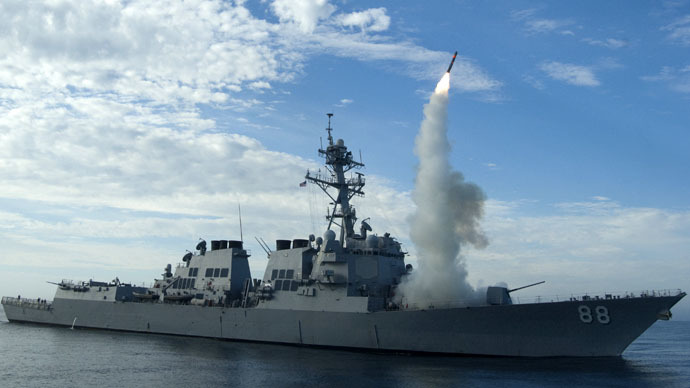 The US Navy is mulling a plan to base warships in Australia and is eying an expansion of yearly maritime exercises with India to permanently include Japan and Australia, potentially straining relations with China, the Wall Street Journal reports.
READ MORE: Obama pledges support to Japan in China dispute
The news coincided with a visit by US Chief of Navy Operations, Adm. Jonathan Greenert, who further said the US would like to support a regular Marine training presence in Australia's northern city of Darwin. He added that officials from Washington and Canberra were both interested in increasing maritime cooperation.
"We're doing a study…to see what might be feasible for naval cooperation in and around Australia, which might include basing ships," the WSJ cited Greenert as saying during a lecture on security at the Australian National University in Canberra.
READ MORE: US military expands presence in Philippines despite constitutional ban
"Right now it's at the stage of 'what's the art of the possible', what kind of infrastructure exists, what might it take to do that, what kind of support measures, and how would that fit into the two nations' strategic desires into the future," Greenert, who is a military adviser to President Barack Obama, told the paper.
"It's in the early stages. But we are considering it."
Reflecting reluctance on both sides to permanently station US troops on Australian soil, a spokesman for Greenert later said the increased US naval presence in the country would be rotational, which he characterized as "placing and not basing."
Amid longstanding plans to rotate up to 2,500 US marines at a base outside of Darwin for six months every year, Washington has already identified warships which would form an Amphibious Ready Group to support a Marine Air Ground Task Force. That group would include a large amphibious assault carrier and two smaller helicopter carriers.
The plan would also require the expansion of Darwin's port.
"Now, the question is by when do they need to be ready, will they come in all three, or one or two at a time," Adm. Greenert said.
He also supported the expansion of Exercise Malabar, a bilateral naval exercise involving the United States and India which began in 1992. While Australia and Japan have been non-regular participants since 2007, he has lauded the value of including the two states as permanent participants in the maritime exercises.
"Multilateral works best," Adm. Greenert said. "It's an amazing deterrent. If somebody figures they are going to take on one of you, there is some likelihood they may be taking on all four of you. That tends to hold folks back."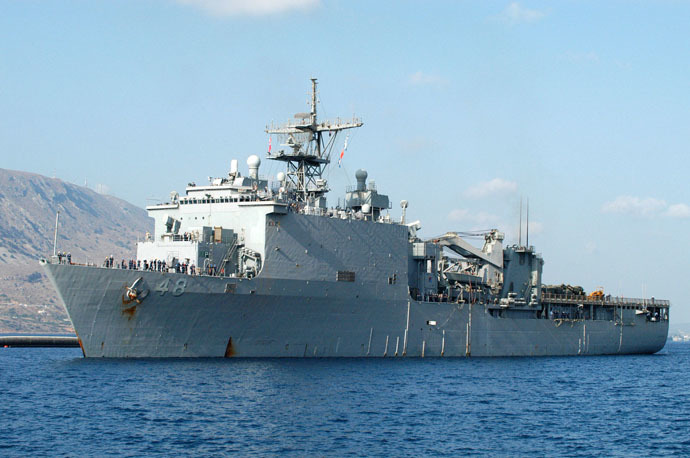 He also said the exercises would tighten up cooperation in humanitarian operations.
China had previously objected to the participation of other states, particularly Japan, in the Malabar exercises. With relations between Japan and China seriously deteriorating following a recent dispute over islands in the East China Sea, any attempts by the US and its partners to strengthen military cooperation is likely to raise alarms in Beijing.
READ MORE: Japan to establish strategic military outposts near disputed islands - report
The potential bolstering of forces in Australia and plans to expand Exercise Malabar to a permanent quadrilateral exercise reflects the Obama administration's 2012 Pivot to East Asia regional strategy, whose key areas of actions include "strengthening bilateral security alliances" and "forging a broad-based military presence."
Prior to his Australia visit, Greenert outlined broader plans for ramping up the US's presence in the Pacific over the coming years.
Speaking to sailors in Honolulu on Friday, the admiral said that the strategic deterrent of ballistic missile-armed submarines and providing forward presence "where it matters" and "when it matters" remained his top priorities, Stars and Stripes reported.
He added that the 50 ships now forward-deployed in the Pacific would increase to 60 by 2020. Greenert reassured the sailors that sequestration, which entails automatic federal budget cuts, would not affect the so-called Pacific pivot.
"Presence in the Pacific won't change much, because I will invest in that, very much."
You can share this story on social media: