Addictive devices: Japanese girls spend 7 hours daily on their mobile phones… sometimes 15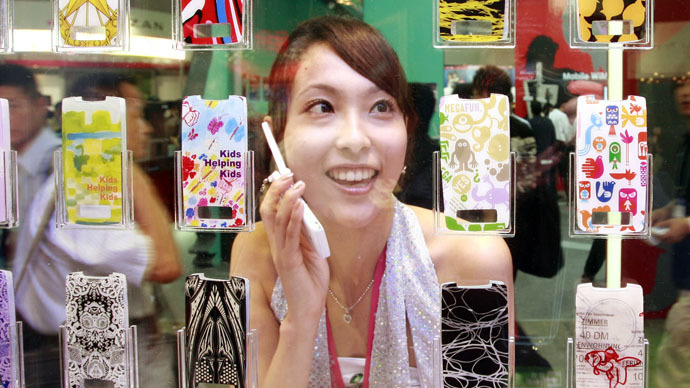 Japanese high-school girls spend an average of seven hours a day on a mobile phone, new figures show. And 10 percent of the age group spends up to a staggering 15 hours using the phone each day.
Boys, however, are a different story. They average up to about four hours on their phones, according to a survey by security firm Digital Arts published Monday.
Of the 618 respondents between ages 10 and 18, who also own their own phones, more than 40 percent of girls averaged more than six hours a day, the survey, conducted online in February, found.
As they mature into adolescence, mobile phone owners also increase in number. In Japanese high schools, over 95 percent of girls own a mobile phone, with the figure 80 percent for boys, a dramatic rise in usage from junior high school.
According to Digital Arts, the most popular activities include watching videos and chatting on social networks.
READ MORE: NSFW? You bet! 70% of workers check social media during meetings
Japanese kids have become so adept at using phones that half the respondents, sometimes more, admit to using the phone while watching TV, eating meals and even while having a face-to-face conversation with another person. Nearly half of the girls responded yes to the last part.
It appears that the youngsters themselves realize something is up. Some have made an effort to wean themselves off mobile phones just a little. But 40 percent of respondents apparently didn't have the willpower.
These worrying statistics come at a time of rising digital consumerism worldwide, but also in Japan, which is especially known for its affinity to technology. The country is home to a whole segment of children whose alienation from their peers has been exacerbated by things like portable devices and video games.
READ MORE: Selfies turn lethal: Deadly 'distraction' thought to have caused plane crash
"I think we will see a further increase in smartphone use while doing something else," Miki Endo of Angels-eyes, a think tank that aims to combat internet addiction, told Asahi Shimbun. "Many children feel bad about themselves because they tend to procrastinate on what they should be doing, such as studying."
In China, recent surveys, according to AFP, have come out with troubling data that compares mobile phone addiction to those of cocaine or alcohol.
You can share this story on social media: