Giving ultimatums isn't the way to talk to President Putin – Kremlin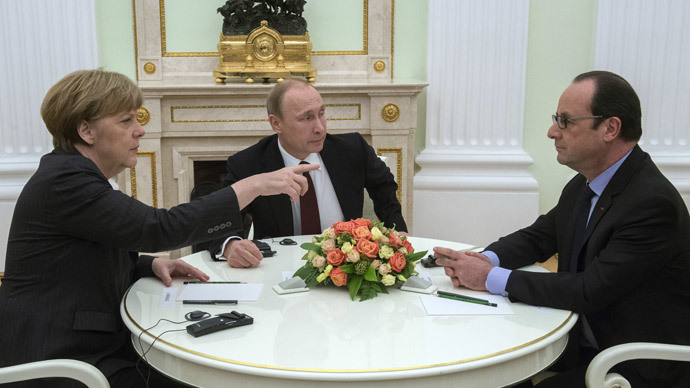 The Kremlin has commented on media reports of an ultimatum issued by German Chancellor Angela Merkel to Vladimir Putin, saying that issuing such demands is no way to talk to the Russian president.
"We've already said everything about the tone of the negotiations. Nobody has ever talked to the president (Putin) in the tone of an ultimatum – and couldn't do so even if they wanted to," Dmitry Peskov, Russian presidential press-secretary, told Govorit Moskva radio station.
The press secretary previously said the five-hour talks between Putin, German Chancellor Angela Merkel and French President Francois Hollande were "substantive and constructive."
After the talks in Moscow on Friday, Western media outlets cited diplomatic sources as saying that Merkel had issued Putin an ultimatum over Ukraine.
Merkel vowed more sanctions if Russia finds new peace proposals by France and Germany unsatisfactory.
READ MORE: Mission improbable: Merkel visits US to sell Ukraine peace plan
All the parties involved described the lengthy negotiations in Moscow as "constructive."
The leaders of Russia, Germany and France and Ukrainian President Petro Poroshenko are now expected to meet in the Belarusian capital of Minsk on Wednesday in the 'Normandy Four' format. The focus of the meeting will be a new joint document on the implementation of the Minsk agreements. They will include proposals made by Poroshenko and suggestions put forward by Putin.
The Franco-German strategy to resolve the crisis in southeastern Ukraine is based on the Minsk agreements, but it also proposes new details on how to implement the peace treaty, including the timing of certain steps. The joint document is seen as a real way out of the long-lasting conflict.
German Foreign Minister Frank-Walter Steinmeier expressed cautious optimism that the Minsk meeting will lead to the "first steps... towards a ceasefire," Reuters reports.
On Monday, the European Union's foreign ministers announced new sanctions against Russian officials and eastern Ukrainian militias. However, they said they will decide whether to implement these new restrictive measures in a week, after evaluating the results of the Minsk negotiations.

READ MORE: EU widens sanctions against Moscow and Ukraine rebels, implementation delayed
The Ukraine conflict began last April when Kiev sent regular forces and volunteer battalions to the southeastern Donetsk and Lugansk regions, after rebels there refused to recognize the country's new, coup-imposed authorities.
The death toll in the Ukraine conflict has exceeded 5,300 people, with over 12,000 injured, according to UN estimates.
You can share this story on social media: