​Mission improbable: Merkel visits US to sell Ukraine peace plan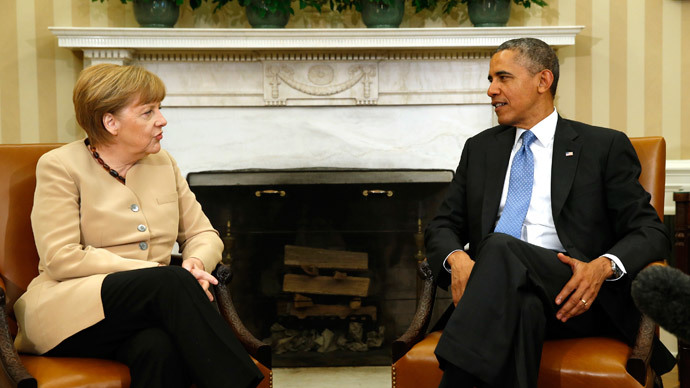 German Chancellor Merkel is visiting the US on Monday in what is viewed as a last-ditch attempt to secure a truce in Ukraine. Washington and Berlin, strategic allies in other areas, are at odds over US plans to supply arms to Kiev.
Merkel's visit to the US is expected to be dominated by the Ukrainian crisis. The chancellor has made a string of visits to foreign countries in the past few days to advocate a new peace plan for Ukraine.
Last week, the German leader and French President Francois Hollande paid a surprise visit to Moscow to negotiate a diplomatic solution with President Vladimir Putin to the Ukrainian armed conflict. The effort was also endorsed by Ukrainian President Petro Poroshenko.
READ MORE: Lithuania wants to supply weapons to Ukraine amid ongoing civil war
Little detail of the plan was made public. Hollande said that it would involve creating a wide demilitarized zone in eastern Ukraine to separate the troops loyal to Kiev and anti-government forces of the self-proclaimed Donetsk and Lugansk People's Republics. Some media reports speculated that a foreign peacekeeping force may be invited to keep the protagonists apart.
The peace plan was put on the table after several American lawmakers and military commanders strongly advocated supplying lethal weapons to Ukraine. President Obama's administration indicated it wouldn't take a decision before Merkel's visit and favored a peaceful solution, but left the arms supply option on the table.
Germany declared strong opposition against arming Kiev, with the chancellor telling a security conference in Munich that she "cannot imagine any situation in which improved equipment for the Ukrainian army leads to President Putin being so impressed that he believes he will lose militarily."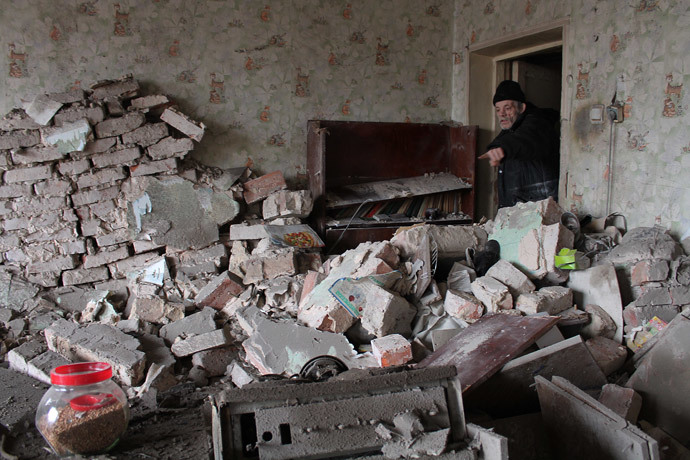 With hardly any detail about the peace plan available, there is a big difference in how it is perceived by various parties. Russian media pointed out that it's based on the so-called Minsk agreement, a semi-official truce signed in September last year that mirrored the terms proposed earlier by Putin himself. The truce was never fully implemented and failed in January, when sporadic clashes between the Ukrainian troops and the rebels spiraled out of control.
At the same time the Wall Street Journal described Merkel and Hollande's visit as an ultimatum to Putin, to choose between stopping support for the rebels or suffering further sanctions. The Kremlin said the Russian president would not tolerate an ultimatum from anyone.
READ MORE: US mulls providing Kiev forces with 'defensive' weapons – report
The confrontation with Russia over Kiev has caused damage to both Europe and Russia. EU economies lost an estimated €21 billion in damage due to lost exports, the Spanish foreign minister said on Monday.
Supplying weapons to the Ukrainian government may further escalate the tension between Russia and the West. Hollande warned that if the peace plan fails, Europe may face a full-fledged war. Moscow is bound to see it as a hostile act and warned that such a move would derail the effort to stop the violence in Ukraine.
"As for the idea to supply arms to Ukraine, the overwhelming majority of European politicians consider it a bad idea. An idea that would only aggravate the already serious Ukrainian crisis," Russian Foreign Minister Sergey Lavrov said on Sunday.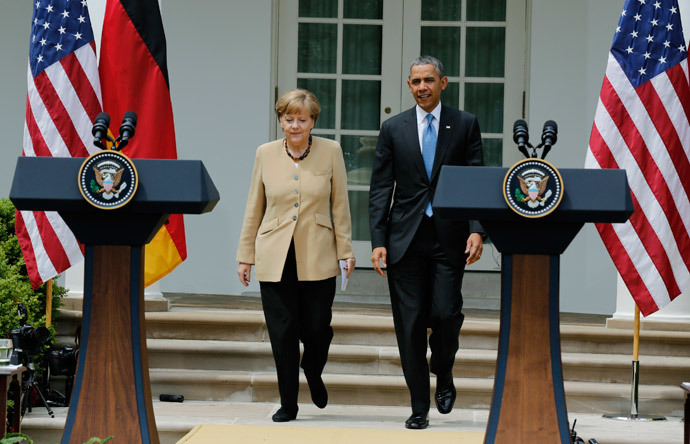 The European peace initiative, however, has its enemies. US Republican Senator John McCain reportedly described it as "Moscow bull****" at a meeting with General Philip Breedlove, NATO's European military commander, and Victoria Nuland, the US's most senior European diplomat and branded Merkel a "defeatist."
"History shows us that dictators will always take more if you let them," McCain allegedly said as cited by the German newspaper Bild. "They will not be dissuaded from their brutal behavior when you fly to meet them to [sic] Moscow – just as leaders once flew to this city."
The politician, who is among the most vocal critics of Russia and an advocate of military solutions for many foreign policy challenges, allegedly compared Europeans' stance on the Ukrainian crisis to that of their predecessors dealing with Adolf Hitler in 1938. The unflattering comparison is especially injurious for a German politician like Merkel.
READ MORE: Huge explosion at Donetsk chemical plant, Kiev blames 'dropped cigarette butt' (VIDEO)
If the Obama administration chooses to go on with the European peace initiative, it is bound to be criticized by American hawks, who view the president's foreign policy as feeble. But objecting to it would put it at odds with America's European allies.
The EU in their obedience to Washington's guidelines makes European leaders a target for criticism as well. Chancellor Merkel's government was roundly castigated for not confronting the US hard enough after revelations of massive espionage operations on German soil, including the alleged taping of Merkel's phone. With Europeans' wallets being hurt along with their pride, the voters are increasingly calling on their leaders to put national interests ahead of trans-Atlantic cooperation.
"Germany is dependent on the US. It may be a leading power in Europe, but it's a doormat when it comes to real world superpowers. As soon as the US tells its vassal states in Eastern Europe and the Baltics to apply pressure, Germany has no possibility to take its own direction," Alexander Neu, a German MP from the Die Linke Party, told RT.
You can share this story on social media: