Lithuania wants to supply weapons to Ukraine amid ongoing civil war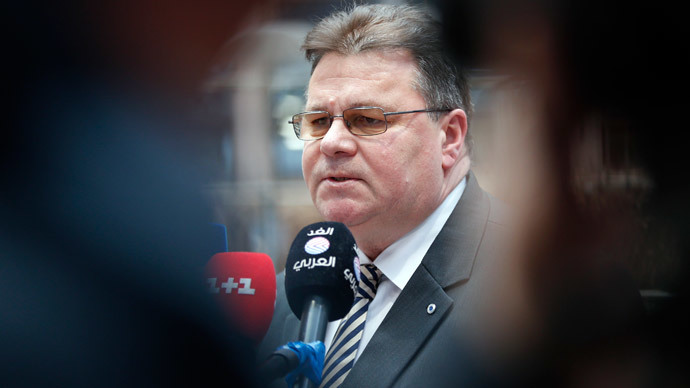 EU member Lithuania believes it should provide defensive arms to Kiev, the foreign minister told the media. The comments come after major EU powers like Germany and France objected to the idea of arming Ukraine.
"We need to support Ukraine not only financially, economically, but also militarily," Lithuanian Foreign Minister Linas Linkevičius told the media on Monday. "Not with soldiers - that is not under discussion - but at least by supporting their troops with weapons to defend."
#Lithuania's Embassy in #Kyiv now will assume role of #NATO contact point! Opening together with @PavloKlimkinpic.twitter.com/khRFB9gNnc

— Linas Linkevicius (@LinkeviciusL) January 28, 2015
Lithuania's top diplomat was speaking to the media ahead of an EU foreign ministers' meeting in Brussels. They have gathered in the Belgian capital to discuss the latest developments in the Ukrainian crisis and a possible new round of sanctions against Russia.
Lithuania has been among the more vocal supporters of the post-coup government in Kiev and critics of Russia. The government is apparently siding with politicians in the US, calling for the provision of lethal weapons to Ukrainian troops, even as other European leaders strongly objected to such a move.
READ MORE: Ukraine crisis: Putin, Poroshenko, Hollande, Merkel voice plans for Minsk meeting
The idea of providing lethal weapons to the Ukrainian troops was supported by several American politicians and military commanders like Senator John McCain and NATO's top commander in Europe, General Philip Breedlove, but the White House remains undecided on the issue. They said the weapons are needed to fight against Russia, which they accuse of arming and training anti-government militia forces in eastern Ukraine.
READ MORE: US mulls providing Kiev forces with 'defensive' weapons – report
Meanwhile European leaders like German Chancellor Angela Merkel and French President Francois Hollande strongly objected against arming Kiev, saying it would only escalate violence and may lead to a major war in Europe.
Moscow denies accusations of providing arms to the Ukrainian rebels or sending troops to fight on their side. It insists that Washington is fanning the flames of the Ukrainian civil war to pursue its geopolitical goal of containing Moscow and taking over European energy market through disrupting its trade with Russia.
You can share this story on social media: