#OPISIS: Anonymous targets ISIS online propaganda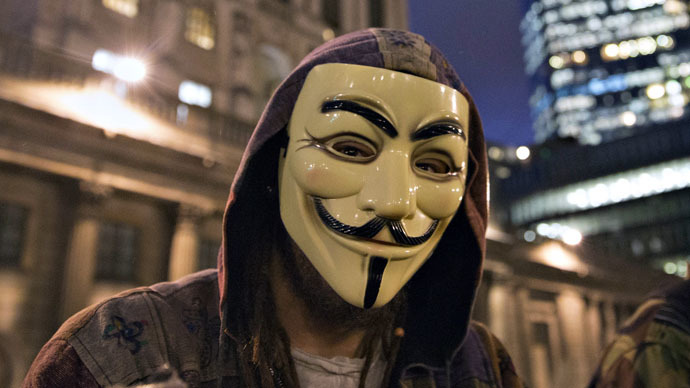 The hacktivist group Anonymous says it has targeted dozens of websites and social media accounts used by the Islamic State (IS, formerly ISIS) to recruit new members and disseminate propaganda.
READ MORE: 'Trolling' among tactics used by US State Dept against ISIS
On Sunday, Anonymous published a list of over 1,000 social media accounts, email addresses and recruitment sites it says were "exposed and destroyed" by the collectives RedCult team. Over 800 twitter accounts made up the bulk of the list.
Praise☩God, these #ISIS sites are down (pic) #OpISIS#OpIceISIS#OpAntiISIS#OpCharlieHebdo Tick.. Tock..Tick..Tock.. pic.twitter.com/hqSQxFmiS4

— Tick.. Tock.. (@OpAntiISIS) February 7, 2015
In a statement released online, Anonymous describes itself as an ecumenical group of "Muslims Christians and Jews" from every walk of life and from "all races, countries, religions, and ethnicity."
"Remember, the terrorists that are calling themselves Islamic State (IS) are not Muslims. ISIS, we will hunt you, take down your sites, accounts, emails, and expose you. From now on, no safe place for you online," the group said in a statement.
"You will be treated like a virus and we are the cure. We own the internet."
Anonymous first announced its plan to counter IS' massive online presence back in June, though it has recently ramped up its efforts following the January 7 Charlie Hebdo shooting.
READ MORE: #OpCharlieHebdo: Anonymous declares war on terrorist websites
According to the Hacker News, Twitter has already suspended more than 1,500 IS accounts since the group released its first list in June.
Anonymous also said it planned on launching a series of attacks against states it accused of funding IS.
"We plan on sending a straightforward message to Turkey, Saudi Arabia, Qatar and all other countries that evidently supply ISIS for their own gain," an Anonymous source told Forbes in June.
"In the next few days we will begin defacing the government websites of these countries so that they understand this message clearly. We are unable to target ISIS because they predominately fight on the ground. But we can go after the people or states who [sic] fund them."
@AnonPaperClips@OpAntiISIS Update: 826 accounts suspended/deleted #OpCharlieHebdo#OpISIS#OpIceISIS#JeSuisCharliepic.twitter.com/IBwTBHck3F

— Abu Talha al-Almani (@Abu_Mamadou_) February 1, 2015
On Friday, the Inquisitr News also reported that an IS blooper reel had been posted on Live Leak in an attempt to chip away at the group's slick videos, which attempt to portray the militants as a relentlessly efficient fighting force.
"As ISIS continues to circulate their brutal propaganda videos around the world in an effort to perpetuate the image of their tough merciless exterior, a new video is making the rounds contradicting that image, revealing how stupid these jihadist fighters truly are," Live Leak wrote.
"From rocket launcher fails to premature bomb detonations, the video compilation of ISIS fails is truly entertaining."
You can share this story on social media: