Gunmen with AK-47s fire on Marseille cops ahead of French PM Valls visit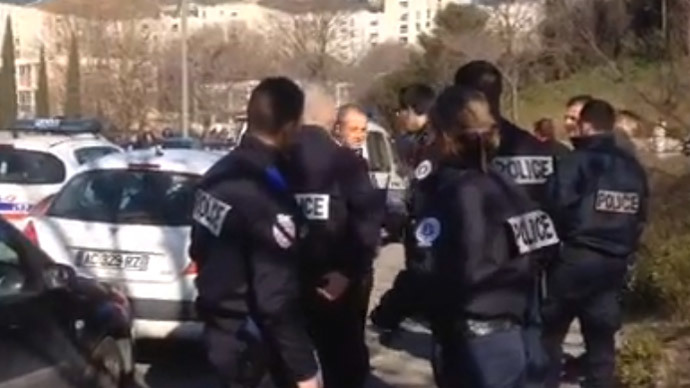 A group of hooded gunmen armed with Kalashnikov rifles reportedly opened fire at police in the southern French city of Marseille. The attack came during a visit of Prime Minister Manuel Valls.
The shooting was reported by Reuters citing a police source.
About 40 police officers have been dispatched in response to the shooting, head of Marseilles police, Pierre-Marie Bourniquel, told the media.
"There has been shooting from people wearing masks and armed with Kalashnikovs in the direction of a police vehicle," said Bourniquel. Bourniquel was among the police officers at the scene during the shooting, Le Figaro said.
Police have blocked a housing estate in search of the gunmen, Reuters reports. The residents of the neighborhood were ordered to stay indoors. The district has some 7,000 inhabitants.
Report: #French special units are in a standoff with the Gunman.unclear if there are more then on gunman #Marseillepic.twitter.com/F7fQif3bH5

— Amichai Stein (@AmichaiStein1) February 9, 2015
BREAKING: Hooded gunmen fire on #Marseille police ahead of French PM visit http://t.co/n6cvCMRxJVpic.twitter.com/An698n19YY

— RT (@RT_com) February 9, 2015
But the newspaper said the shooting was not another terrorist attack, but was related to drug gang wars.
The shooting happened in the La Castellane district of the city, the newspaper said.
"It's [the district] got everything - prostitution, drugs trafficking, violence. It's a dangerous cocktail and we saw evidence of that today," local senator Samia Ghali told BFMTV.
AFP said the Kalashnikov AK-47 rifles were shot "in the air." No casualties were reported.

Tirs de Kalachnikov : forte tension cité de la...by LaProvence
According to French media, Valls was not in the city at the moment of the attack. His arrival is expected later in the afternoon.
READ MORE: 3 soldiers attacked outside Jewish center in Nice, France
Security in France remains a hot issue in the wake of Islamist attacks last month, when gunmen massacred journalists from the satirical weekly magazine Charlie Hebdo and took hostages at a kosher supermarket.
You can share this story on social media: