Munich conference: From 'transatlantic family meeting' to Russia opposing NATO expansion
The Munich Security Conference was once a "transatlantic family meeting" for NATO member states only. When the Cold War ended, new key players, Russia among them, joined the discussions, to have their say on global security threats and challenges.
READ MORE: Munich Security Conference: LIVE UPDATES
RT highlights the key stages in the history of Russia's relations with the conference:
1963. NATO 'family meeting'
The Munich Security Conference has been taking place since 1963. During the first decades, the conference was often dubbed a "transatlantic family meeting", with debates focusing on Western policy within the framework of Cold War confrontations. When the Cold War was finally over, it was decided to invite participants from countries that had previously not been part of the Western world, including Central and Eastern European countries, Asia and Russia.
1999. Russia joins Munich conference
A new era in the conference's history began with the 35th Munich Conference on Security Policy. The summit was open to representatives of the countries of Central and Eastern Europe and the business community. For the first time, non-NATO countries, including Russia, participated in the biggest get-together of its kind. Moscow used the invitation to mobilize against further eastward expansion of the alliance.
2007. A touch of the Cold War
Russian President Vladimir Putin made headlines at the 43rd Munich Conference on Security Policy when he accused the US of trying to establish a "unipolar" world. "What is a unipolar world? No matter how we beautify this term, it means one single center of power, one single center of force and one single master," he noted, adding that the United States "overstepped its borders in all spheres - economic, political and humanitarian, and has imposed itself on other states." Putin said the US went "from one conflict to another without achieving a fully-fledged solution to any of them," and called for the review of global security's architecture. Then-NATO Secretary General Jaap de Hoop Scheffer deemed the Russian president's speech in 2007 "disappointing and not helpful."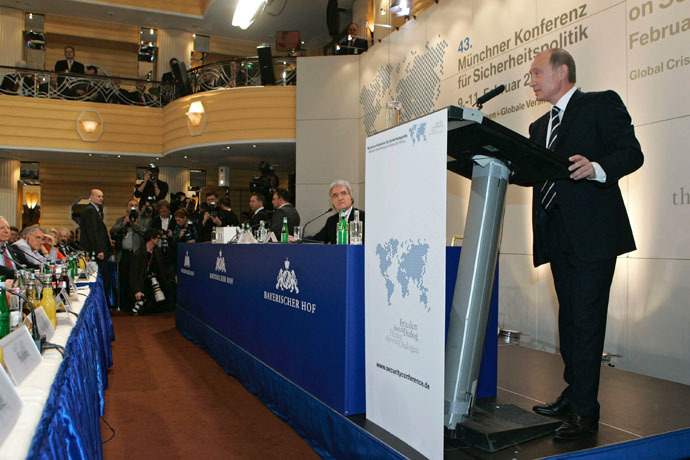 2009. The White House presses 'reset' button
In 2009, only days after President Barack Obama's inauguration, Vice President Joe Biden and National Security Adviser James Jones laid out the new administration's foreign-policy agenda to an international audience in Munich. At the 45th Security Conference Biden famously called for a "reset" in the US relationship with Russia. "The last few years have seen a dangerous drift in relations between Russia and members of our alliance," Biden said. "The US and Russia can disagree but still work together where its interests coincide," he added. Then French President Nicolas Sarkozy dismissed US efforts to expand NATO to include Georgia and Ukraine, saying he did not believe that "modern Russia constitutes a military threat to the European Union and NATO."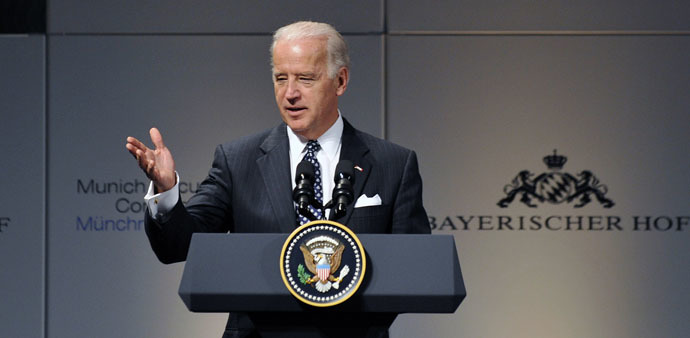 2015. Ukraine tops agenda
The escalating conflict in eastern Ukraine has taken center stage at the 51st Munich Security Conference, with international efforts taking place to heal the rift between the US, Russia and Europe. While Washington is discussing plans to supply lethal weapons to Ukraine, European nations are strongly opposing the dangerous move, with tensions between NATO and Russia running perilously high. "NATO plays an indispensable role in the ongoing war. The Ukrainian crisis in fact is a war," political analyst Rick Rozoff told RT. "What we have seen is that the crisis in Ukraine has provided NATO with the pretext for moving further [forward]. Plans are well underway for an advance of that crisis. What the US has succeeded in doing with NATO expansion is to set up a military Iron Curtain along Russia's entire western border," he said.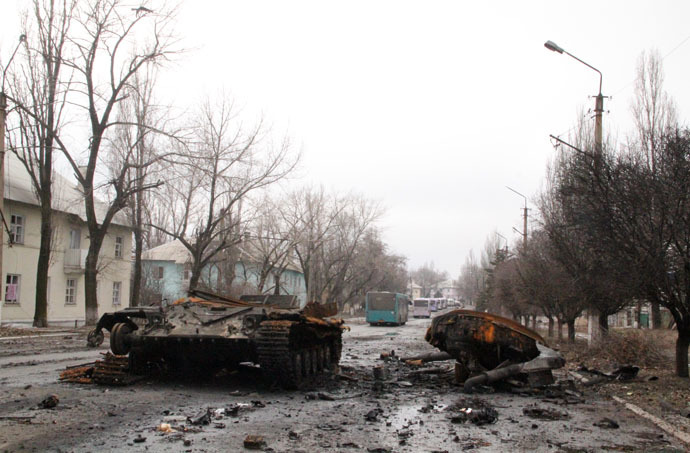 You can share this story on social media: