Israeli police using foam tipped bullets 'without proper training'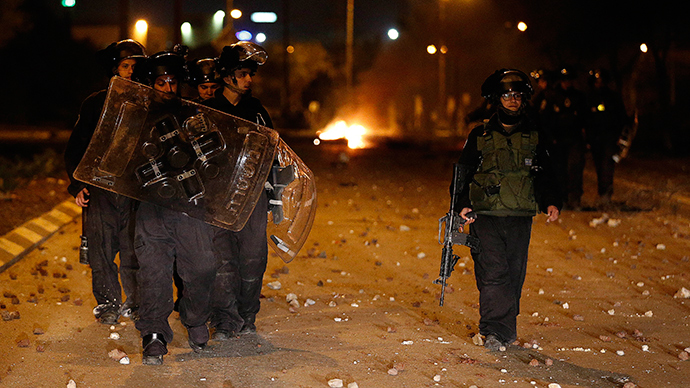 New anti-riot gear including black foam tipped bullets have been used by the Israeli police for more than six months without training and without regulations for their use, according to the Association for Civil Rights in Israel.
The bullets are black, foam tipped, heavier and cause much greater bodily harm than the blue bullets Israeli police had used previously.
Regulations on their use were only written about a month ago even though police have been using the ammunition for about a year, Haaretz reports.
The bullets are 40 millimeters in diameter and the foam tip is meant to reduce injury, but evidence is mounting up that suggests they have caused serious bodily harm in a number of cases.
As a result the Association of Civil Rights in Israel (ACRI) is urging Yehuda Weinstein, the attorney general, to investigate the matter urgently.
"Apparently the police have been using a new weapon with a higher potential for injury and killing, before drafting the required procedures regulating its use and the minimum permitted ranges. According to the date on the instructions for use, they were written only about six months after the new weapon was put into use and after many people had already been injured from it. If that is the case, the police conduct is evidently reprehensible and illegal," the advocacy group said in a letter to Weinstein.
The police have said that guidelines into the use of the new bullets were introduced on January 1 and that in any case the guidelines are "merely a structural change to the original procedure and not a new one."
Police are believed to have used the black, foam tipped bullets when they shot and killed Mohammed Sunuqrut in Jerusalem last August.
An investigation into his death has been completed, but the Justice Ministry hasn't yet decided whether to indict the police officer who fired the bullet.
READ MORE: Israeli serviceman shoots 5yo Palestinian in the face (GRAPHIC IMAGES)
Dozens of people have reported seeing people badly injured after being shot by the foam tipped bullets.
ACRI cites four children who were very badly wounded by the black foam tipped bullets. Eleven-year-old Salah Mahmoud suffered facial fractures and lost sight completely in one eye and partially in the other. Mohammed Jamal Ubeid, 5, was shot in the face and needed surgery and has lost partial sight in one eye and Ala Hamdan, 14, had to have stiches in her face and is also now partially sighted.
Ubeid was shot as he got off a bus on his way home.
"He's an innocent boy, he didn't do anything! Why did this happen to him? I'm really worried about my son – they [Israelis] are the racists, not us!" the boy's mother told RT.
Tali Mayer, a photographer, sustained facial injuries from a bullet fired from 70 meters away.
The directive, which appeared on the 1st January, says that the minimum range for firing the black bullets is 10 meters, compared to five meters for the blue ones. It also prohibits their use on children, elderly people or pregnant women and says that the gun must be aimed at the lower part the body.
Police sources confirmed to Haaretz that only so-called veteran fighters are authorized to use them, and that a combat veteran wouldn't have difficulty aiming at the lower part of the body.
In November last year, ACRI wrote an open letter to Yehuda Weinstein urging him to clarify comments by the Minister of Public Security Yitzhak Aharonovich, who had said lethal force could be used on terrorists. Weinstein asked the minister to confirm that lethal force must only be used as a last resort.
You can share this story on social media: