At least 3 killed, 35 wounded in Damascus rocket attack - reports
Syria's capital has suffered massive bombardment from terror group Islam Army, which fired at least 40 rockets at homes, reportedly leaving dozens of civilians wounded and at least three dead.
Shells thought to be fired from the east of the capital could be heard exploding in the city, a witness told Reuters, and local media reported that Islam Army, a group based in the eastern Ghouta region on the outskirts of the city, was behind the attack.
A witness in Damascus reported at least 30 explosions on Thursday. According to Sham FM local radio station, rockets have hit five districts of the capital, including the Old City.
#سوريا Pictures of the bombed Syria #دمشق Thursday morning before #جيش_الإسلام. pic.twitter.com/7HdxCRzgy2

— samiullah (@samibinwakeel) February 5, 2015
Several rockets hit the territory of Damascus University, in particular the areas where its law, education and economics faculties are located, RT Arabic reporter Abutalib ALbohaya said, adding that several students were injured in the attack.
In the Old City in the center of Damascus, several schools and squares were damaged, ALbohaya reported. He said that according to preliminary reports, at least nine people were killed and over 40 injured, but as shelling continues, number of casualties might grow. Damascus police reported three deaths among civilians and over 30 injured, he said.
Some of the injured civilians brought to al-Mwasat hospital are in a critical condition, a source told SANA.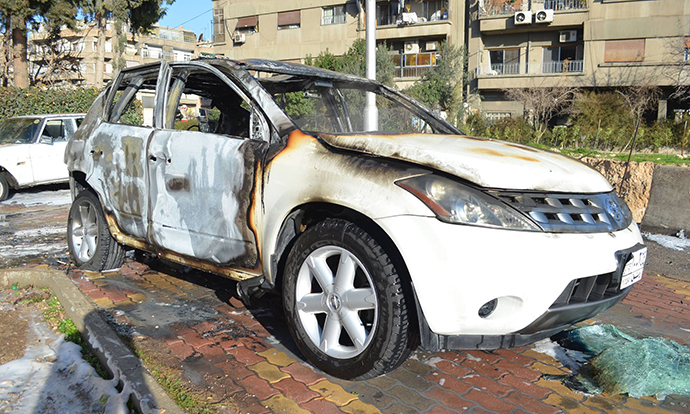 The Russian embassy in Damascus was damaged in attacks on Thursday, RIA Novosti reported, saying several shells exploded near its territory, but none of the staff were injured. Earlier, Russia's Foreign Ministry representative, Aleksandr Lukashevich, said the consular section of the embassy in Syria was hit by a shell.
"According to RT's military sources, the Syrian army immediately opened backfire on the artillery positions of the Islamist militants in Douma, Zamalka and other Damascus neighborhoods," ALbohaya said, adding that over 25 strikes on militants' positions have been conducted.
#SAA attacks on #Douma in #Ghouta in response to #Jaish_Al_Islam's attacks on #Damascus#Syria. pic.twitter.com/1T2mEVEAyX

— TahrirSy تحرير سوري (@TahrirSy) February 5, 2015
The leader of Islam Army, Zahran Alloush, who designated Damascus as a "military zone" earlier this week, claimed on Twitter that the attack is a retaliation strike for the Syrian Air Force's strikes in Ghouta.
The same group struck the capital with at least 38 rockets on Jan 25, killing seven people, a monitoring group said, in one of the heaviest attacks on Damascus in over a year.
You can share this story on social media: