E. Ukraine officials accuse Kiev of deadly provocation plan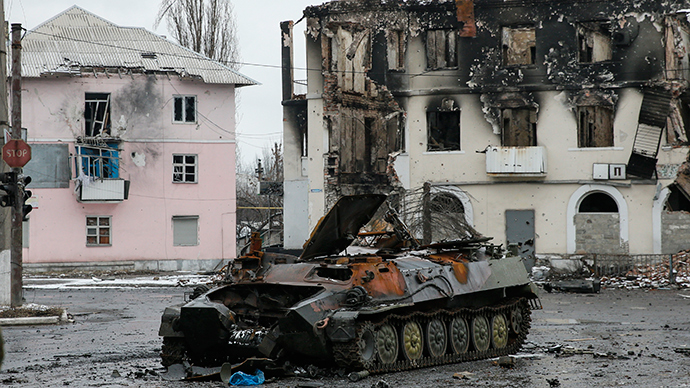 Officials of the self-proclaimed Donetsk People's Republic (DPR) say they have evidence the Kiev government has planned a provocation in the days leading to the Munich Security Conference. Ukrainian forces continue intense shelling of Donetsk.
DPR Deputy Defense Minister Eduard Basurin on Wednesday said there is proof Kiev has been planning to shell a bus with civilians in Debaltsevo. He says the information comes from testimony by a Ukrainian officer, Senior Lieutenant Aleksandr Marchenko, who handed himself over to rebel forces on February 2. The Ukrainian government was planning to use this action to discredit the DPR so it can be recognized as a terrorist organization, Basurin said.
READ MORE: Europe, not Russia pressured Kiev over EU association agreement – former Ukrainian PM
The statement comes days before a key international meeting in Munich, Germany. The 51st Munich Security Conference has the Ukrainian crisis and ways of solving it, and the counteraction against jihadist extremism on its February 6–8 agenda. German Chancellor Angela Merkel, US Vice-President Joe Biden and Russia Foreign Minister Sergey Lavrov are among the senior delegates participating.
Meanwhile, amid Kiev's intensified military campaign, Donetsk is coming under artillery fire on a daily basis. On Wednesday, a hospital in the city was hit by artillery shelling, with local authorities saying more than 15 people were feared dead in the attack. The Ukrainian prosecutor's website meanwhile reported four to 10 deaths and blamed the shelling on the rebels.
READ MORE: Hospital shelled in Ukraine's rebel Donetsk, multiple casualties reported
In separate incidents, at least six people were killed and 28 wounded on Wednesday during the shelling of Donetsk by pro-Kiev forces, according to Basurin. The official accused the Ukrainian heavy artillery of intense shelling of residential areas and suburbs of Donetsk.
"In total, 26 cases of shelling over localities were registered," Basurin said. "The main targets were hospitals and schools. There are numerous casualties." At the moment, Basurin added, the Ukrainian forces are shelling Gorlovka.
Kiev routinely claims that the rebels themselves target civilians but a number of reports from international human rights organizations confirmed that at least some of the attacks came from the Ukrainian side.
Human Rights Watch (HRW) has said Kiev failed to investigate its army's indiscriminate use of prohibited cluster bombs against civilians in the country's east. Ukrainian Prime Minister Arseny Yatsenyuk responded by claiming "there is no evidence of that," and suggested that the group should focus on Crimea, which split from Ukraine and reunited with Russia in March 2014.
READ MORE: HRW urges Kiev to acknowledge cluster bomb use, stop indiscriminate killings in E. Ukraine
"Yatsenyuk and many others like him must find it impossible that the laws and customs of war can be objectively applied to both sides… Rather than denying reports of abuses by its military, Kiev should recognize the obvious facts and stop conducting erratic combat operations," HRW Chief Kenneth Roth said. He added that the group in fact "published a lot of evidence that Ukraine refuses to distinguish between military targets and civilians as required by the laws and customs of war."
You can share this story on social media: