Hospital shelled in Ukraine's rebel Donetsk, multiple casualties reported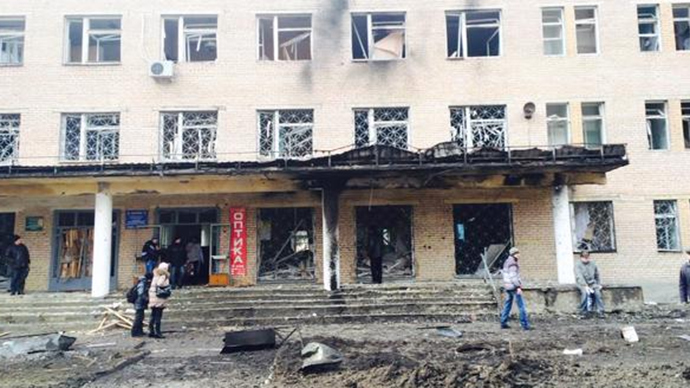 A hospital in the rebel stronghold of Donetsk in eastern Ukraine was hit by artillery shelling, local authorities said. One person has been confirmed killed, with initial reports of over 15 feared dead.
"There are multiple casualties at the hospital. A preliminary count says more than 15 people were killed," local emergency services told Interfax.
The Ukrainian prosecutor's website says from four to 10 people were killed in the shelling and blames the rebels.
The midday barrage also damaged a residential building nearby and a high-voltage power line, the city council said. The entire neighborhood is without power.
RT correspondent Roman Kosarev was one of the first journalists to arrive at the scene.
3 civilians dead, multiple wounded after rockets struck hospital & apt building in #Donetsk dense residential area. pic.twitter.com/9p27fQgYOL

— Roman Kosarev (@Kosarev_RT) February 4, 2015
"The OSCE monitors should investigate the site of the attack, determine the direction and the location, from which the barrage was fired and report their findings," a spokesman for the self-proclaimed Donetsk Peoples' Republic, Andrey Purgin, said.
#Donetsk Repair crew came to fix power line and that's what happened. Nearby buildings & cafe also damaged by shells pic.twitter.com/iztoigLHCp

— Roman Kosarev (@Kosarev_RT) 4 февраля 2015
Donetsk - a stronghold of forces opposed to the Kiev government - comes under artillery fire on a daily basis. The attacks continued even during the shaky ceasefire announced in September, but intensified in January when the truce collapsed.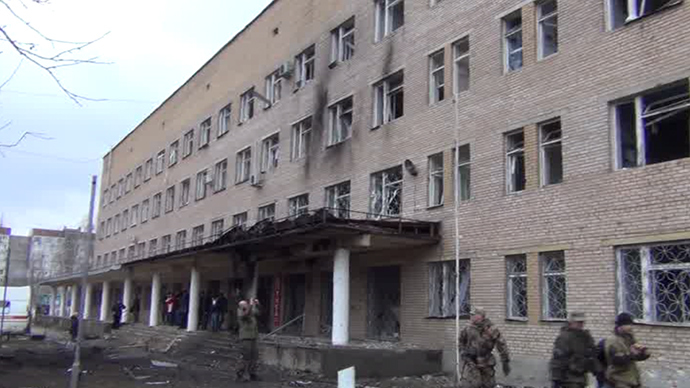 READ MORE: 12 killed in shelling of humanitarian aid center, bus stop in Donetsk
Kiev routinely claims that the rebels themselves target civilians in order to frame their opponents. But a number of reports from international human rights organizations like Amnesty International confirmed that at least some of the attacks came from Ukrainian side.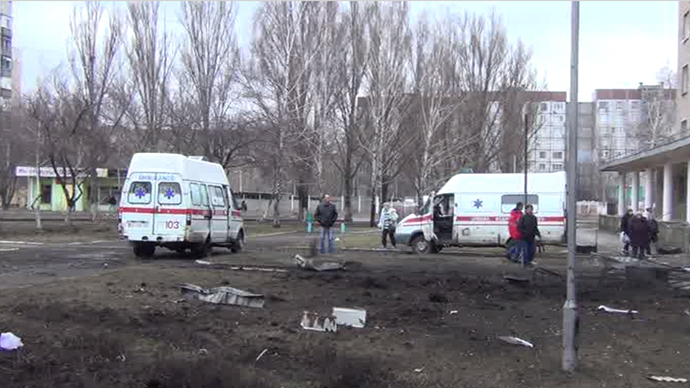 READ MORE: OSCE urges upholding of ceasefire as tensions rise in eastern Ukraine
Rights advocates accuse Ukrainian troops and rebels of using indiscriminate weapons like multiple rocket launchers against residential areas. Such actions violate rules of war because they make it practically impossible to avoid civilian casualties.
The civil war in Eastern Ukraine has claimed at least 5,358 lives, according to the latest UN count.
You can share this story on social media: