​No Saudi-Russian talks to bump up oil price in return for disowning Assad – Moscow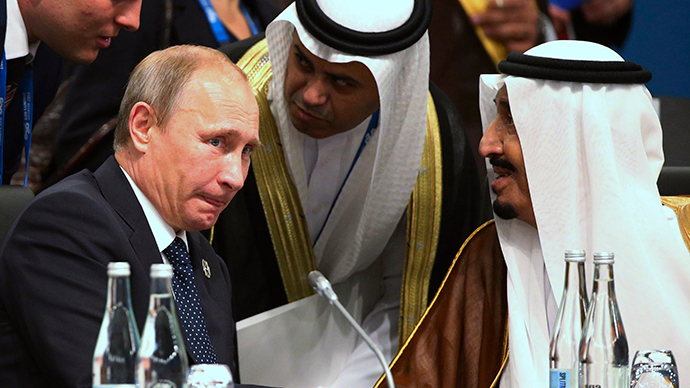 Moscow denies a report claiming that Saudi Arabia had offered to adjust its oil production and create a crude price rise in exchange for Russia withdrawing support for Syrian President Bashar Assad.
The report in the New York Times cited an anonymous Saudi and US diplomatic sources as saying that Riyadh used its large oil market share as leverage in negotiations with Moscow.
"If oil can serve to bring peace in Syria, I don't see how Saudi Arabia would back away from trying to reach a deal," a Saudi diplomat was quoted as saying.
The report was denied by Aleksey Pushkov, the head of the Foreign Affairs Committee in the Russian State Duma.
"The New York Times distorted information so many times, especially since the Ukrainian crisis started. I wouldn't advise you taking it as a reliable source. There were no talks of such exchange," the official told RSN radio station.
Saudis kinda admit to keeping oil prices low to screw Russians and gain influence in Syria. No mention of ISIS. http://t.co/aZRtXrQrE4

— Let's Talk About It! (@letstalkletsbe) February 3, 2015
He added that the Russian delegation headed by Prime Minister Dmitry Medvedev, which visited Saudi Arabia for the funeral of late King Abdullah, did discuss oil-related issues, but no shady deals were proposed.
"We discussed oil, pricing, coordination between OPEC members and non-member states. The talks were positive and constructive. There was no Syrian dimension in them," Pushkov said.
He added that Saudi Arabia is in the process of changing its position on the Syrian crisis and distancing itself from the armed conflict.
READ MORE: Oil can recover to $200 if supply dries up – OPEC head
The report was also denied by Kremlin spokesman Dmitry Peskov, who called it "nothing more but speculation by the paper."
Saudi Arabia has been an outspoken critic of the Syrian government over the years of civil war there. It was reported to supply weapons to various opposition groups seeking to topple Assad.
Russia remained an ally of Assad and negotiated a deal with the US, which led to dismantling of Syria's chemical weapons arsenal. The deal saved face for Washington, having pledged to use military force against Damascus due to alleged use of chemical weapons, but being reluctant to actually do it.
The oil market experienced the biggest drop in price in years in 2014, imperiling the economies of oil exporters, including Russia and Saudi Arabia. Riyadh said it would not reduce its output regardless of the price do protect its market share.
You can share this story on social media: