Jordan executes 2 prisoners after Islamic State burns pilot to death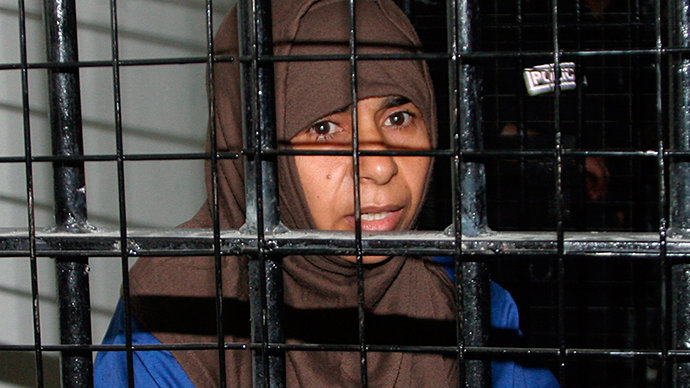 Amman has executed two prisoners, including the Al-Qaeda would-be suicide bomber Sajida al-Rishawi, after promising a lethal response to the brutal murder of a Jordanian pilot who had been captured by the Islamic State.
Government spokesman Mohammed al-Momani identified the second prisoner as Ziad al-Karbouli, AP reported, adding that both executions took place early on Wednesday.
The executions were carried out by hanging, Reuters reported.
Al-Rishawi was sentenced to death after unsuccessfully attempting to detonate herself during the Al-Qaeda attacks on Jordan a decade ago which killed 60 people, and has been awaiting her death sentence since the subsequent trial ended. Meanwhile, al-Karbouli was identified as a senior Al-Qaeda prisoner sentenced to death for planning attacks against the kingdom.
#ISIS burns #Jordanianpilot alive, releases horrifying video http://t.co/hu64W40rxF#Kasasbehpic.twitter.com/Fb0LZTN8MF

— RT (@RT_com) February 4, 2015
Earlier, Jordan vowed to execute failed suicide bomber Al-Rishawi "within hours", as revenge for the execution of hostage pilot Moath al-Kasasbeh by Islamic State, a security official told AFP. Amman offered to swap the two prisoners, but the talks eventually failed.
"The revenge will be as big as the calamity that has hit Jordan," army spokesman Colonel Mamdouh al Ameri said in a televised statement.
King Abdullah II had to cut his visit to the US short, as the country declared three days of mourning for the "martyr and hero", al-Kasasbeh.
READ MORE: Jordan vows 'revenge' for ISIS execution of pilot hostage
On Tuesday, the Islamic State released a video, purportedly showing al-Kasasbeh being burned alive. According to national television, Jordan now believes he was executed as far back as January 3, exactly one month ago, though the government has refused to directly confirm this to Western news agencies.
Al-Kasasbeh was captured after his plane crashed over an IS-controlled part of Syria, following a bombing mission on December 24. Jordan has been participating in the US-led air strikes in the region, which have helped stem IS expansion through Syria and Iraq.
You can share this story on social media: